Monday, October 18th, 2010
Winners of Eternal Hunger!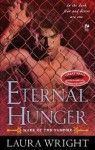 The two (randomly chosen) winners of Laura Wright's Eternal Hunger are:
Comment #5  SILVER JAMES
Comment # 24 Linda Sienkiewicz
Congratulation ladies! Please email me at email hidden; JavaScript is required or email hidden; JavaScript is required with your mailing addresses!
***
My weekend was pretty quiet. I did finally read THE HUNGER GAMES by Suzanne Collins. I liked it and see why the series is so popular! How was your weekend?