Monday, June 24th, 2013
Weekend Roundup
Busy weekend! First we went to the condo that oldest son and Finance (aka her new name is Special K cause Wizard and I love her that much!)  are buying. They were having the inspection done, so Oldest wanted Wizard there.  We love the condo, it's cute and has tremendous potential! They did very well!
Sunday I went shopping with a good friend and she helped me find a dress. Trust me, this looks better on: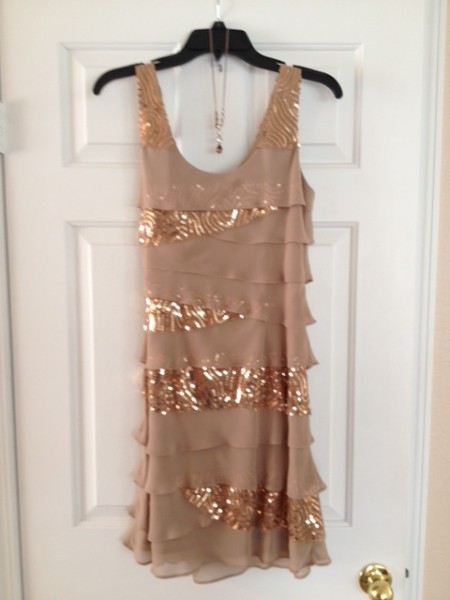 Wizard wasn't sure until I tried it on. It's basically a dark taupe  color and should blend with pictures fine. Special K told me to just find something comfortable, that she truly doesn't care. So I did

She's not pretentious at all, which means their wedding and reception is going to be fun and fabulous.  Oldest is a very lucky man. The wedding isn't until the end of August but now I don't have to worry about the dress!
I do have to worry about cleaning up my diet

I have to tell you, while shopping I saw a guy that I swear was a UFC fighter or something along those lines. We were leaving Macy's, chatting away, and a man wearing shorts and a tank was walking toward us.
Holy Muscles! This guy was huge! Extremely well proportioned and I was stunned. Totally forgot what I was saying. He had tats on both arms that just accentuated his incredible physique.  When I  recovered my ability to talk, I muttered to my friend, "Way to rock the ink." This isn't even my normal speech, but seeing that guy picked me up out of my life and dropped me right in the middle of Sloane's world from The Plus One Chronicles.
No response from my friend.
So  I looked at her, worried that maybe I was imagining it? The book is heavy on my mind so perhaps I've finally snapped and now I'm seeing characters from my books?  "Did you see his arms?"
Her wide, unfocused eyes hit mine. "He had two, right?"
OMG I busted up laughing. And felt better.  I don't stare and I tried hard not to stare this time, but  the guy was like walking art. I know what it takes to cut extreme muscles like that, and the fact that he was proportioned meant he knew what he was doing. It wasn't ogling,  it was sheer appreciation.  I wanted to stop and ask him all about his training–but you know, that might be weird.  As in super duper creepy weird

I made a tad bit of progress on my book but man, I'm fighting for every single tiny step forward.
Enough of me. How was your weekend?