Friday, May 11th, 2018
Friday Five
TGIF Again!! It's time to share five random things about our week. I'll go first

1) I've been cooking and freezing a few meals. So far, I have spaghetti sauce and chicken cacciatore. Today I'm making 2 servings of enchiladas to freeze.
2) I'm doing the above because next week Wizard is having more back surgery. This one is a little more involved than the one he had last year, but if this works, it will be worth it.
3) Yesterday, despite #2, Wizard came in the house yesterday and said, "Witch, I need your help with something."
I went outside and found the EXTENSION LADDER leaning up against the tall palm trees. Even more worrisome, this is on a freaking SLOPE. I narrow my eyes. "What do you think you're doing?"
He held up big hedge clippers like it was obvious. "Trimming the tops of the trees. I need you to hold the ladder."
I looked at the aluminum extension ladder precariously placed on the sloped yard and shook my head. "No. Absolutely not. You've lost your mind."
Wizard frowned, studied the ladder and said, "You're right."
Of course I am. I breathed a sigh of relief.
Then Wizard went into the garage and reappeared with a small block of wood. "Let me put this under the ladder." He wedged it under one leg of the ladder that didn't sit flush in the grass BECAUSE THE YARD IS SLOPED!!! Then he said, "Now hold the ladder so I can get this done."
"Have you lost your mind?" My voice rushed up the street, hit the hills at the top and bounce back in a screaming echo. "You're not doing this!"
He stared at me. "Yes I am. The ladder is a little shaky though. Just hold it. And don't worry, if I fall, I'm having surgery anyway." I swear to you, that's what he said! And then he smirked and added, "You know, like two for one deal."
And before I could smack him, he started climbing the ladder. I had no choice but to grab and hold it.
He didn't fall, but I'm still pissed. All these shenanigans cause him more pain too. What is WRONG with men? Is there medication to make them sane???
4a) This is Maggie yesterday on our morning walk. There were bunnies at the park, and she is staring at one in the bushes.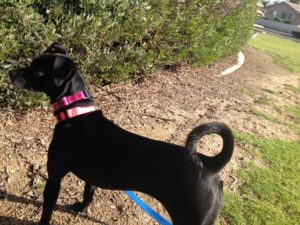 4b)  And this is Maggie's expression after I tugged her away from the bunny, lifted her on a wide rock wall and tried to get her to pose for a picture: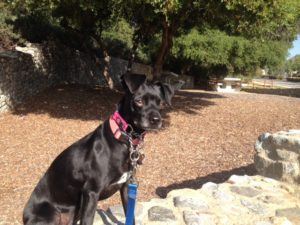 **In case you're wondering why she has two collars on, the second one is a Martingale collar that I use for her safety when we hike. She's never taken off on me or fought her collar, but if she did, she could possibly slip her regular collar and either get hurt or rush into danger. This collar prevents that, and she's perfectly comfortable in it. I take it off when we're finished walking.
5) HAPPY MOTHER'S DAY TO ALL THE MOMS!!
Okay that's my Friday Five, now it's your turn to share yours!