Monday, October 29th, 2018
Weekend Roundup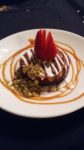 It was another fast weekend! Saturday evening, Wizard and I went out to dinner to celebrate our anniversary early. We went to Taps Fish House and Brewery, a pretty upscale place. And WOW! the restaurant did not disappoint! We both had lobster dinners, and desert. Wizard had cheesecake and I had an amazingly delicious Flourless Dark Chocolate Olive Oil Cake with salted caramel and pistachio nuts. We had planned to come home and open a bottle of wine CPA Boy and Special K had brought us from Napa (wine country in Northern Ca), but we were too full! This picture of the cake pic on the right is one I snagged off Yelp.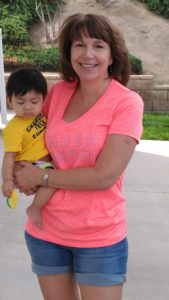 Sunday CPA Boy and Special K brought Baby Slayer out again! It's a long drive, and I really appreciate it. This picture was one Wizard snapped outside. Baby Slayer is looking down at something on the cement, and he was getting tired from playing nonstop for two hours in the house. He's crawling all over now, and pulls himself up to standing on anything he can reach. I have videos…so many videos, LOLOL!! I swear he'll be walking before his bottom two teeth finally come it! Every baby develops on their own timeline (a quote from Baby Slayers pediatrician). Also it's still hot here in So Cal which is why both Baby Slayer and I are dressed in shorts, and he doesn't have socks on. I think it was 95 yesterday.
By the way, Baby Slayer's T-Shirt says, "Grandma's Tech Support." Now Special K is demanding her own T-Shirt that says "Father-in-Law's Tech Support" since she's been helping Wizard with his phone. Special K deserves a t-shirt!
Today I have an early hair appointment, shopping, laundry and we're going move the big recliners into the family room. I may not be able to sleep in a bed, so we have the recliners in the family room as a backup option.
And lastly, my surgery is tomorrow (Tues, Oct. 30th) at 7;30 am, and we have to be at the hospital at 5:30. I'll likely spend the night at the hospital and come home on Halloween. I doubt I'll be online much. I'll try to check in and let you guys know I'm ok, but if you don't hear from me for a while, it's just because I'm recovering and will update you when I can.
Now how was your weekend?