Wednesday, January 27th, 2021
Rebranding Cover Decision, Pre Order Special & A Blooper
Why I Rebranded the Cover for the Boxed Set of the Savaged Illusions Trilogy:
When I published the first two books of the Savaged Illusions Trilogy, I had all three covers made and I loved them. That was in 2017. By the time I was able to published the third book at the end of 2020, the covers had aged out. However I used the third cover I already had for two reasons:
Consistency in series branding. I knew that most of the people buying the third book would have read the first two with the original covers, and so I kept it consistent by using the third cover that matched the first two.
Cost. Budget is always a factor. It shouldn't be the only factor, but it matters. Because this was the third book in a trilogy, it wasn't going to suddenly be a runaway bestseller on it's own. It's success was directly tied to the first two books in the series. This was not the place and time to invest in a new cover.
However once I put the series into a boxed set, I decided to rebrand the cover for that. I did this for two reasons.
Marketing.  The first set of covers attracted buyers who liked that look. But this is 2021 and I wanted to create a more modern impression to reach a new demographic of readers.
Cost Effective. Since all three books are in one boxed set, it does have a possibility to take off. It's worth the investment in rebranding to see if it will payoff. As a stand alone, it has a higher potential for a return on my investment, than as the third book in a trilogy.
I've chosen not to recover the original three books at this time for two more reasons.
Cost. Recovering three books in both e-book and print versions adds up. If I want to change the covers on the interior files at the vendors, that adds more costs. At this moment, it's not really a return on my investment, but that's always a decision I can revisit.
Time. Everything we do has a time cost.
I wanted to be straight up honest. Will it work? I don't know, but it's good to try variations to test the market and see if sales will increase.
And so, with that, here's the original covers.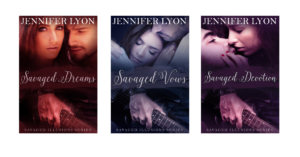 And here's the updated rebranded cover for the boxed set: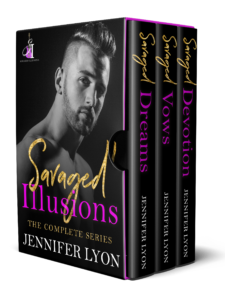 I'll let you know if I think it helped to "rebrand" the cover in the boxed set.
Pre Order Special
For anyone who hasn't read the series, I have a Pre Order special price of $3.99 at all the vendors. After the book releases on February 22nd, the price will go to $6.99. (*Note: Most vendors will change the price on the 23rd, but I'm not sure when Amazon will change the price–they operate on their own timeline.)
Here are the Pre Order Links:
Amazon: https://www.amazon.com/dp/B08TRVYCLM
B&N: https://www.barnesandnoble.com/w/savaged-illusions-the-complete-series-jennifer-lyon/1138667115?ean=2940162274797
Apple Books:  https://books.apple.com/us/book/savaged-illusions/id1550160130?ls=1
Kobo: https://www.kobo.com/us/en/ebook/savaged-illusions-the-complete-series
Google Play: https://play.google.com/store/books/details/Jennifer_Lyon_Savaged_Illusions_The_Complete_Serie?id=k6wWEAAAQBAJ
My Blooper
It took several days to figure out why my book wasn't searching out on Amazon. Yesterday the lightbulb went on. I had uploaded my book with a wrong word in the title. <Insert Face-Palm Here> So instead of "Savaged Illusions, The Complete Series" I set it as "Savaged Illusions, The Complete Set." Truly, a boneheaded, amateur hour mistake. I know to check and double check the title, but…mistakes happen. I fixed it yesterday, and hopefully it's corrected today.
I'm laughing now. I wasn't as amused when I couldn't figure out why Goodreads and Bookbub couldn't "see" the book on Amazon.
Bloopers happen. As long as they're fixable, it's all good.
Is any of this helpful to you?