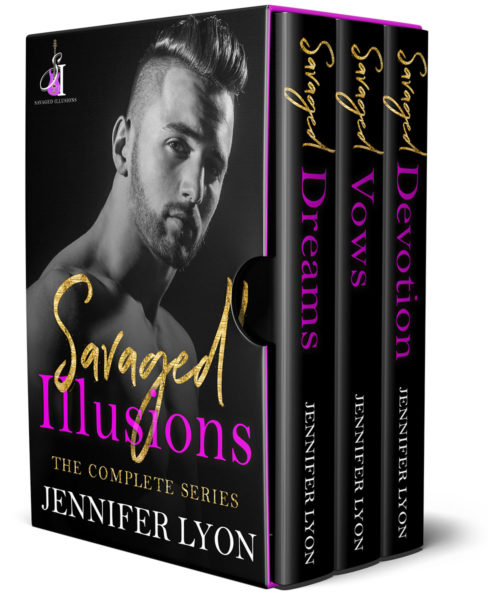 Savaged Illusions
The Complete Set
Savaged Illusions Trilogy, Books 1-3


Savagely sexy rock star romance trilogy all in one set!
Book One: SAVAGED DREAMS
Ambitious and sexy lead singer Justice Cade has one goal—to take his band, Savaged Illusions, to international rock star fame. But when the fiery college-intern Liza Glasner captures his heart, he soon learns she has a dark secret that compels her to avoid the limelight. The revelation of Liza's true identity forces Justice to choose between the woman he loves and the stardom he craves. The wrong choice could be deadly.
READ AN EXCERPT »
Book Two: SAVAGED VOWS
Dating a rock star nearly got Liza killed. Now that the world knows her true identity, danger stalks her relentlessly. But she loves Justice too much to leave him. A surprise pregnancy leads to a secret marriage and festering doubts. Justice struggles to balance the wife he loves, impending fatherhood, and the battle to take his band to stardom. As he reaches the very pinnacle of success, secrets and betrayals explode in a heartbreaking twist that threatens to rip Justice and Liza apart forever.
READ AN EXCERPT »
Book Three: SAVAGED DEVOTION
Losing Liza taught Justice that love is more important than fame. He risks everything to win her back, and he'll stop at nothing to keep her safe. Justice's fierce devotion helps Liza recover from a devastating loss and grow strong enough to stop hiding in the shadows. Together, Justice and Liza burst onto the world stage to face down the man who tormented her for a decade. Will their love triumph or will Liza's old enemy tear them apart in the most permanent way possible—death?
READ AN EXCERPT »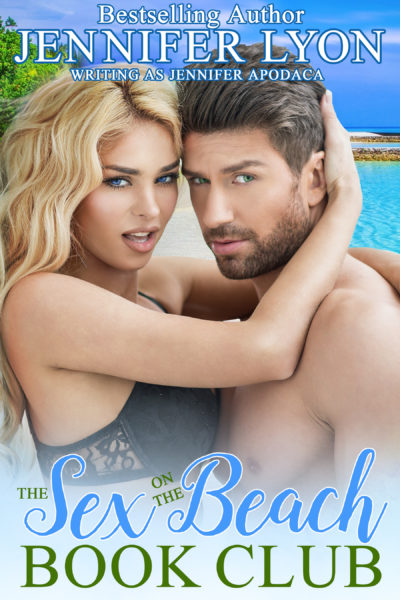 Sex On The Beach Book Club


A Sexy Romance…
Holly Hillbay is a love-burned private investigator who relishes chasing down cheating scumbags. Hot on the trail of another two-timing spouse, Holly goes into stealth mode to find out if the owner of Books on the Beach, Wes Brockman, is slipping between the covers with her client's adulterous wife. Joining the book club, she soon realizes that Wes isn't her philandering Casanova, nor is he a mild-mannered book store owner. He's way too dark, hunky and mysterious, pinging Holly's interest… and lust. Holly's heart is on ice, but her body is all for a little beach romance as long as it doesn't interfere with the job. That works great until Wes becomes her job, her lover and maybe her destruction.
An Incriminating Murder…
Wes's bookstore is a new chapter in his life, and he's closed the book on his old one. When Holly shows up in his club breathing snarky attitude and raw sexiness he can't keep his hands off her. The woman ignites more than his lust, she makes him feel alive—which is saying something since he's been technically dead for years. It's not until a book club member is murdered in his store that Wes learns Holly's an uncover P.I. But now he needs her more than ever and hires her to find the killer… and because he can't bear to let her go. Wes is falling hard for the sexy sleuth while guarding his dangerous secret that could get people he loves—including Holly—killed.
The Lethal Consequences…
Secrets and betrayals explode, and Holly discovers that falling in love with a bookstore owner can be devastating…and deadly.
Note: This title is a reissue of a 2007 release.

Click on the covers to find out more.

Once A Marine Series
Click on the covers to find out more.

A Proposition brings them together, will an Obsession tear them apart?
[youtube:http://www.youtube.com/watch?v=MSTm81OGR6c]
A wicked proposition…
A sensual possession…
A dark obsession…
The Plus One Chronicles:
Searing passion and fiery vengeance collide in three explosive books.