Jennifer Apodaca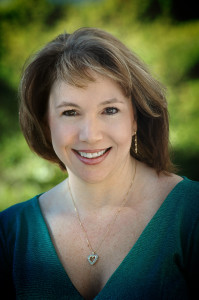 USA Today Bestselling Author Jennifer Apodaca grew up in Southern California and met her very own hero at the dog pound. She worked there, he came in on business, and it was puppy love. They married and had three wonderful sons.
While her husband worked on his master's degree, Jen did the mom thing by day and went to college at night with the intention of pursuing a marketing degree. But her true passion was writing. With time at a premium, she had to make a choice.
Choosing writing, and with the full support of her husband, she poured herself into her dream. A mere eight years later, she published her first book DATING CAN BE MURDER. In her career, Jen has written a fun and sexy mystery series and a variety of contemporary romances. Taking the pen name of Jennifer Lyon, she also created a dark, sizzling paranormal series, and most recently, The Plus One Chronicles, an emotional and sexy adult contemporary series.
Jen has achieved many of her dreams except for attaining a self-cleaning house, a latte delivery service, and finding the holy grail of nonfattening wine and chocolate. She can live with those disappointments as long as she can keep writing the stories she loves to share with readers.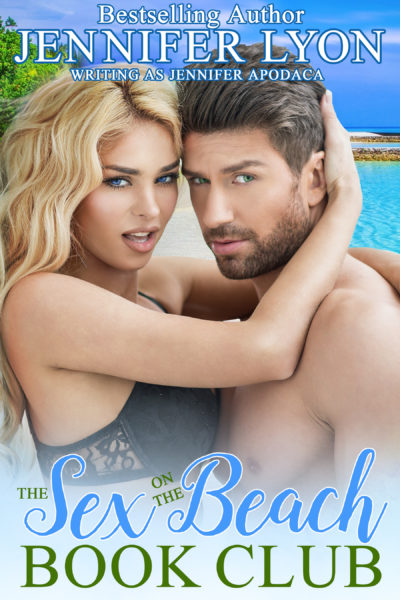 Sex On The Beach Book Club
Jennifer Lyon Books (March 20, 2017)
Order eBook: • Kindle •• Nook •• Kobo •
• Apple Books •• Google Play •

A Sexy Romance…
Holly Hillbay is a love-burned private investigator who relishes chasing down cheating scumbags. Hot on the trail of another two-timing spouse, Holly goes into stealth mode to find out if the owner of Books on the Beach, Wes Brockman, is slipping between the covers with her client's adulterous wife. Joining the book club, she soon realizes that Wes isn't her philandering Casanova, nor is he a mild-mannered book store owner. He's way too dark, hunky and mysterious, pinging Holly's interest… and lust. Holly's heart is on ice, but her body is all for a little beach romance as long as it doesn't interfere with the job. That works great until Wes becomes her job, her lover and maybe her destruction.
An Incriminating Murder…
Wes's bookstore is a new chapter in his life, and he's closed the book on his old one. When Holly shows up in his club breathing snarky attitude and raw sexiness he can't keep his hands off her. The woman ignites more than his lust, she makes him feel alive—which is saying something since he's been technically dead for years. It's not until a book club member is murdered in his store that Wes learns Holly's an uncover P.I. But now he needs her more than ever and hires her to find the killer… and because he can't bear to let her go. Wes is falling hard for the sexy sleuth while guarding his dangerous secret that could get people he loves—including Holly—killed.
The Lethal Consequences…
Secrets and betrayals explode, and Holly discovers that falling in love with a bookstore owner can be devastating…and deadly.
Note: This title is a reissue of a 2007 release.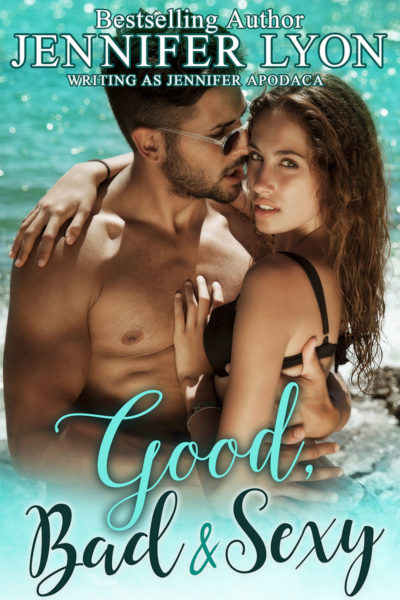 Good, Bad & Sexy
Jennifer Lyon Books (January 23, 2017)
Order eBook: • Kindle •• Nook •• Kobo •
• Apple Books •• Google Play •

Good girl Lexie Rollins is a wedding planner on the lam. All she did was defend herself (with a staple gun) against a sleazy groom—who knew the Assault and Battery charges would stick? Now Lexie's "vacation" at an exclusive resort has put her at the top of gorgeous bad boy bounty hunter Nick Vardolous's list. And sexy Nick always gets his woman-every which way imaginable…
Note: Previously published as "You Give Love A Good Name" in the Sun, Sand, Sex Anthology.
Exposing the Heiress
Once A Marine Series, Book 3
Entangled: Ignite (August 4, 2015)
Order eBook: • Kindle •• Nook •• Kobo •
• Apple Books •• Google Play •
"As always, Apodaca writes with sizzle and heart! Exposing the Heiress is sexy, sweet, and suspenseful! Pure pleasure!"​
—Rebecca Zanetti, New York Times Bestselling Author
This Marine will protect her at all costs…
When wealthy heiress Alyssa Brooks finds out her stepfather has been paying her fiancé to marry her, she's humiliated and betrayed. She quickly breaks the engagement, only to be blackmailed by her now ex-fiancé, who threatens both Alyssa and the son she gave up for adoption. With nowhere to go, she turns to the one man she can trust.
Former Marine sniper Hunter Reece's lethal skills could save Alyssa's life. But his little sister's best friend has turned into a woman, who is an irresistible mix of secrets and sexiness. And while Hunter can trust himself to protect her, he can't trust himself to keep his attraction hidden…or even pretend to be the man that Alyssa remembers.
Because the only way to keep the lovely heiress safe is to become the one thing he knows she could never love…a killer.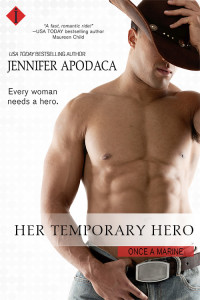 Her Temporary Hero
A USA Today Bestseller!
Once A Marine Series, Book 2
Entangled: Indulgence (July 14, 2014)
Order eBook: • Kindle •• Nook •• Kobo •
• Apple Books •• Google Play •
Former beauty queen Becky Holmes and her baby are on the run from her dangerous ex. With her dreams of love and marriage destroyed, she'll do anything to protect her child…even agree to hide out in her boss's cousin's house while he's away.
Wealthy, sexy, and emotionally haunted Logan Knight needs a temporary wife to get his land, per his dad's rules. No wife, no inheritance. But when that wife lands on his doorstep and comes with a baby, his darkest memories are triggered. He tries to keep his distance, but his efforts are shattered when he starts to have real feelings for his fake wife and child.
Just as Logan begins to think he may have a future with Becky, his attempt to have it all backfires into a betrayal that forces Becky into a heart-wrenching choice no woman should ever have to make.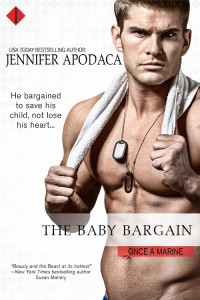 The Baby Bargain
Once A Marine Series, Book 1
Entangled Publishing (March 11, 2013)
Order eBook: • Kindle •• Kindle UK •• Nook •
• Kobo • • Apple Books •
"Beauty and the Beast at its hottest!"
—Susan Mallery, NYT bestselling author
Seeing Adam Waters is the last thing veterinarian Megan Young expects. Ex-Marine. Ex-boyfriend. And still extremely dangerous territory. But Adam doesn't know the secret Megan has been keeping from him. The secret that was created three years ago, after their last night together…
Adam returns to Raven's Cove to sell his home in a final break with the town and memories that haunt him. The problem is that his attraction to Megan is as blazing hot as it ever was. But when a vicious smear campaign against Megan turns ugly, Adam learns the truth he never knew—he has a son.
Now the only way Megan can protect her child is to strike a bargain with Adam. And it's a bargain that looks a lot like blackmail…
No Longer Available At This Time

WICKED WOMEN WHODUNIT anthology
including Jennifer's novella FAST BOYS


THE SEX ON THE BEACH BOOK CLUB


SUN, SAND, SEX anthology
including Jennifer's novella YOU GIVE LOVE A GOOD NAME


EXTREMELY HOT


DATING CAN BE MURDER
Samantha Shaw Mystery,
Book 1


DYING TO MEET YOU
Samantha Shaw Mystery,
Book 2


NINJA SOCCER MOMS
Samantha Shaw Mystery,
Book 3


BATTERIES REQUIRED
Samantha Shaw Mystery,
Book 4


THRILLED TO DEATH
Samantha Shaw Mystery,
Book 5