Coming soon!
A PROPOSITION brings them together…Will an OBSESSION tear them apart?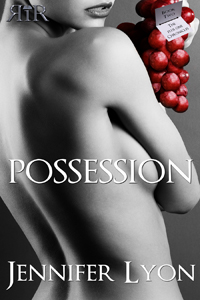 Savagely sexy billionaire Sloane Michaels ruthlessly controls his life and everything in it. Even his sex partners are carefully negotiated plus-one arrangements, including his latest, the fiery bakery owner, Kat Thayne. But Sloane's control is challenged when his mentor becomes seriously ill, and his need for Kat, his need to possess her at all costs, rivals only his single-minded goal of vengeance for the murder of his sister.

After surviving an attack six years ago, Kat Thayne escaped her fears in the protective world of her beloved bakery. Then Sloane Michaels storms into her life, making her feel beautiful, strong and sexy. Yet as Kat pushes her boundaries and uncovers a dangerous secret in her past, Sloane's controlling side emerges. Worried that Sloane will possess her mind, body and soul, Kat fights to keep her hard won independence. But just as Sloane demands her complete surrender, she discovers he has a dark side that could destroy them both.
I hope to have POSSESSION up at Kindle, Nook, iTunes, Kobo an dSmahswords around May 28th 2013.
*** 
Don't forget, I also write as Jennifer Apodaca! Be sure to look for
Book 1 of the One A Marine Series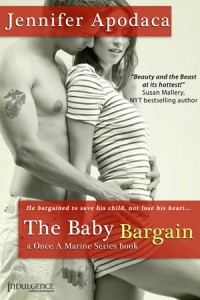 Buy THE BABY BARGAIN by Jennifer Apodaca at:

***
For reviews, interviews, appearances, etc, please contact my assistant, Carla, at assistant2jenniferlyon@yahoo.com.
Happy Reading!
Jen Lyon

February 26, 2013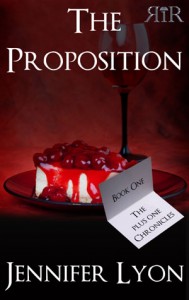 Read more » Kindle

♦

Nook

♦

Kobo iBooks

♦

Smashwords

Cover Design by the supremely talented Patricia Schmitt (Pickyme)


Jen around the Web
Twitter
Facebook
News from the Lyon's Lair
Are you interested in author Jennifer Lyon, her Wing Slayer Hunters series, news and the occasional contest? Then sign up for her mailing list! It's fun, free and you can remove your name from the list anytime.

Loading …
Never met them yet? What are you waiting for? Go to the Wing Slayer Hunters page, read their profiles and Jen's interviews with each of them.
From the Blog
It's been a nice change to have a little down time. Biker Witch (my sister) came over Wednesday, we hung out and went to lunch. That was all great, but the waitress annoyed me.  As soon as Biker Witch and I sat down, right there in front of my face was a picture of chocolate cake.
I tried to look at the menu, but that cake picture kept enticing me.
So finally I ordered grilled chicken and a salad. Because….chocolate cake.
After we finished our lunch, the waitress  barely stopped long enough to drop off our check and vanished without …