Monday, December 4th, 2023
So…this weekend happened. I can't remember the exact order, but it went something like this:
— File boxes arrive. We'd ordered one set of four, and two of them came without latches. Sigh…but stuff happens, so we exchanged them and the company sent us a new set of four with NO latches. I'm done with them. One time is irritating but also understandable. But twice? Nope.
— In positive news: We got our Christmas tree up, I made sourdough bread, went for a hike in my new hiking boots and went to lunch with my friend which was awesome. I also got more shopping done, Christmas cards ordered, and I set up a wrapping station in one of our bedrooms to make it easier for Wizard and me.
–Two of my kids are in a "Who has the best outdoor Christmas Decorations" and is sending pics to our family test loop. I'm waiting to see what Middle Son does, he may ignore it or he'll light up his entire city with decorations to win. It could go either way with him!
–Lastly here is Maggie (on her new blanket!) helping me open delivery boxes of Christmas gifts.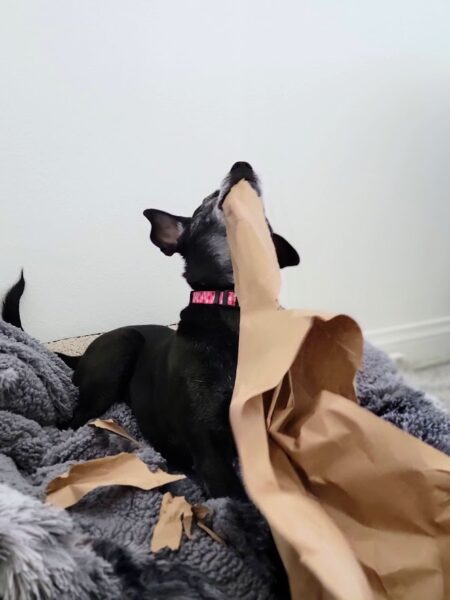 She loves tearing paper for about 15 seconds, then she's done. She spits out all the paper out in a little pile. I never claimed she was normal!
But interspaced in all this we got some less than great news about a few people we love. One I think will be fine once the the cause is figured out, but it's a little scary; one is worrisome but could still turn out okay; and the last was the mom of Wizard's friend passing away. We'll be going to that funeral on Wednesday.
That said, I'm grateful for all the good things in the weekend! I'm also grateful for the dairy-free chocolate I may or may not be stress eating, LOL!
How was your weekend?