Savaged Surrender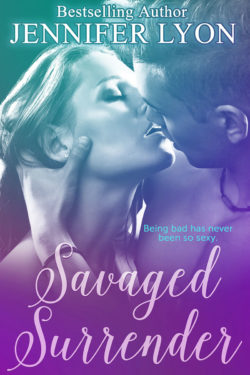 Jennifer Lyon Books (October 24, 2016)
Order eBook:
• Kindle •• Nook •• Kobo •• Apple Books •• Google Play •
Being bad has never been so sexy…
Bad boy Ethan Hunt is sexy, hard and tainted by a past he can't escape. To make matters worse, good girl Ana Kendall is a wicked temptation impossible to resist. She's too innocent for him, so he leaves, joining the security team for the world tour of the internationally famous rock band, Savaged Illusions.
Being good has never satisfied…
Since moving in with her dad at fourteen, Ana's been the perfect daughter, friend, student and employee. But perfection sucks. When her girlfriends cook up a ridiculous scheme to reunite her with the one man she can't forget, Ana hijacks their plot. It's time to shed her good girl persona and go after what she wants—Ethan.
Being bad together is deadly…
When Ana bursts back into his life at a concert, Ethan has to make a choice. Consumed by fiery passion, Ana and Ethan surrender to their sensual desires…and unknowingly ignite the rage of an insidious stalker. This time Ethan can't walk away—Ana's life, and his heart, are on the line.
Read an Excerpt
Excerpted from SAVAGED SURRENDER by Jennifer Lyon. Copyright © 2016 Jennifer Lyon.
Chapter One
For a few hours Ethan Hunt was living the dream by cooking in the kitchen of Stilts, the newest upscale restaurant that stretched out on pilings over the bay in San Diego, California. Surrounded by gleaming stainless-steel worktables, industrial stoves, wicked-sharp knives and the drone of voices yelling out directions, he got to work with the one thing he loved most in the world—food. All under the watchful eye of Chef Zane.
The frenetic yet focused energy in the kitchen was similar to being in the gym back when he'd trained to be a mixed martial arts fighter. That was before he'd fucked up so royally that he destroyed his reputation, his ability to fight professionally ever again, damn near ruined his health and earned a pile of debt as deep as the sea.
"How's this?" His assistant for the day held up a pan.
He glanced over and couldn't bite back his grin. Ana Kendall was a mess. Her dark-rimmed super-cool glasses were askew on her face, dark-blond hair scraped back into a ponytail, and her white apron was covered in…hell, what was that? She must have spilled virtually every sauce in the kitchen on herself. Knowing her, she'd managed to taste all of them in the process. But she proudly held up the pan of crusty rolls he'd had her hollow out to toast for his goat cheese bruschetta.
"Perfect." He'd fix the uneven rolls when she got distracted by something else.
Chef Zane snorted behind them.
Ana shot him a look over her shoulder. "Still want that premium suite at Petco Park?"
The man's judgmental scowl morphed into a contrite expression. "Best work I've ever seen."
She nodded. "Thought so."
Ethan narrowed his eyes. "You offered him your dad's suite at Petco Park?" In trade for Ethan's chance to cook with Zane? Her dad had passed away suddenly less than two months ago. The shock and grief had rocked her, although in typical Ana fashion she was bouncing back quickly. But this? Her dad, a former professional baseball player, had prepaid for a suite at Petco Park baseball stadium for several of the Padres' home games. She was giving that away? "Ana—"
She cut him off with, "I need to change clothes."
Right, not the time to bring it up. Whatever she'd done to get Ethan this chance to cook with one of the best chefs in San Diego, he couldn't alter it now. Nor did he want to upset her in front of Zane and the staff by talking about her dad. He focused on her comment. "Why change? It's just us." He was cooking dinner for the two of them, and he didn't care if she wore shorts and a T-shirt. "Take your apron off and you'll be fine. Oh, and you might want to wash off the…" he reached up, rubbing his thumb over the smudge on her smooth cheek, "…soy sauce?"
Her brown eyes sparked, and a grin curved her mouth. "Chocolate. While you made the potatoes, Zane let me taste some desserts."
Figures. Ana's genuine friendliness and curiosity attracted people, and Zane was no different. Of course he wanted to show off his kitchen to the pretty girl. "You're supposed to be my assistant, little traitor."
God, he was going to miss her. Over the last few months, she'd become his closest friend. He could talk to her about anything. Well, almost anything; some subjects were off-limits. She didn't see the ugliness in him, and he wanted to keep it that way.
Ana sighed. "I'll make it up to you by eating the food you cook." Raising her eyebrows, she added, "Even if it tastes awful."
Her smart mouth amused the hell out of him. He leaned down, his face close to hers. "You'll eat it and love every mouthful." She always tasted every single dish he attempted. Ana was pretty fearless when it came to food and anything athletic.
Challenge gleamed in her eyes. "Or what?"
"No dessert."
Outrage yanked up her shoulders and puffed out her chest. "You can't do that. I have connections." She looked at Zane for help.
Ethan stepped in front of the man, cutting off her view. He easily had a foot in height and a hundred pounds on the little fireball. Not that he could intimidate her; she'd figured out quickly he'd never hurt her.
"I'm the chef tonight. I decide if you get dessert." Oh yeah, he loved taunting her.
"Is that right?" Ana's mouth quirked. "FYI, Chef Ego, I have frosted sugar cookies at home. I was going to be nice and send them with you to eat on your flight tomorrow. But you continue irritating me, and I'm going to keep them for myself." She turned and flounced out, her hips twitching in her shorts.
Ethan yanked his gaze away from her ass. Nope, not looking. Friends. They were friends. Ana wasn't some chick he'd bang and never think about again.
"Damn, she's cute."
Ice slid into his veins at Zane's comment. The man had to be a decade older than Ethan's twenty-two years. "Get your eyes off her ass. She's too young for you. Still in college." He didn't care if Zane was the toast of San Diego's culinary culture and becoming a cooking celebrity, he wasn't good enough for Ana.
The man rolled his eyes in his signature dramatic fashion. "I wasn't the one staring at her ass."
A guilty flush steamed his skin and irritated his conscience. Off limits. Ana is off limits.
"Are you two dating?" Zane asked.
"We're friends. I'm leaving town tomorrow."
"Right, she mentioned that. But…" Zane's attention drifted to the door, and his brows drew together. "She went to a lot of trouble to make a special evening for the two of you. I don't normally allow anyone in here to cook other than my staff, but she swore you have some cooking skills and won't annoy the shit out of me."
An odd sensation raced down Ethan's spine. Ana had given him friendship when most people avoided him after the news exploded that the up-and-coming MMA fighter had had a heart attack from steroid use at twenty-one years old. Called him a cheater, an ungrateful thug, a loser, a dangerous jerk…
And he was all those things. Every one of them. But sweet and sassy Ana Kendall befriended him and stubbornly defended him.
She was his sunshine. He'd been in a pit of black despair before she'd decided they'd be friends. And tonight she'd given him an opportunity to experience what it'd be like to achieve his dream of becoming a chef someday.
Zane went on, "That girl believes in you, man. It's more than friendship for her."
"It's not like that between Ana and me." He and Ana had agreed they were just friends. Ethan left tomorrow to join the protection and security team for the rock band Savaged Illusions's yearlong world tour. He wasn't sure he'd ever come back.
Probably not. His notoriety here in San Diego was another stain on him.
"Zane, got a problem," one of the other cooks called out.
"Be right there." The chef shot a look at Ethan. "Never seen any girl go to so much trouble for a friend. Might want to make sure you're both on the same page before you leave tomorrow. Because that girl? Special." He stalked off.
Special. Exactly. That was the reason he refused to feel anything more for her. He wouldn't be able bear the look in her eyes if she found out about his past. Sure, she knew he'd been a runaway living on the streets. But she didn't know what he'd done to eat. The old shame slithered and mocked, the taunting female words echoing in his memory. "Once a whore, always a whore."
He squeezed his eyes shut and breathed to control the rage that had once driven him. He knew what he was—dirty. No decent woman would want him to touch her. Not in public, anyway. And most definitely not Ana. The girl was too damned good for him. He'd known it the second he'd seen her in Sugar Dancer Bakery where she worked helping customers, taking extra time with the lonely older folks, making kids smile and just being Ana.
Then she'd turned all that sweet attention on him, and he'd been like everyone else who came into contact with Ana—helpless to resist her. So he'd compromised and walked the line. Friends. He wouldn't cross it.
They were fine. And tonight, he was cooking the best meal ever so they could enjoy their last night of companionship before he moved on to his new job. With renewed determination, he set about finishing the meal. He poured all his passion into the task, plating the crusted ahi and grilled sliced steak, potato and bacon au gratin, caramelized Brussels sprouts and the goat cheese bruschetta.
He took it all to a table against the glass wall of the open-air deck, surrounded by the bay glistening from the setting sun. It had to be perfect. His original idea was to bring Ana here for dinner, but she'd hijacked his plan, arranging for him to cook with Chef Zane. Now he wanted to give her the most delicious meal he'd ever prepared.
Something she'd remember when she thought of him, of their friendsh—
"Ethan."
Ah, there she was. After arranging the plates, he turned and froze.
Holy shit. Ana's hair fell in sultry waves around her face, and an electric-blue dress wrapped around her lithe curves. The hem ended midthigh, leaving too damned much of her tanned and toned legs bare, right down to her silver strappy heels.
His breath locked in his chest, and a buzzing filled his head. Look away. Stop ogling her.
But he couldn't stop. His control was taking a hell of a beat down. It wasn't just the dress—Ana was hot no matter what she wore. Nope, what blew his restraint out of the water was that Ana had taken off her glasses.
Her black-framed spectacles shouted good girl to him, and were a visual reminder that she was smart, sexy and way out of his league.
Unable to help it, he demanded, "Where the hell are your glasses?"
* * * * *
Okay, that growling reaction wasn't exactly what Ana had hoped for. "I'm wearing my contacts." Zane had let her use his office and private bathroom to clean up and change. She'd meant to dazzle Ethan into yanking her out of the friend zone and into his arms.
He didn't appear dazzled. The light from the sinking sun caught the golden hues in Ethan's blond hair and highlighted the harsh lines of his strong cheekbones and rigid jaw. His blue eyes darkened as he glared at her. Backed up by powerful muscles packed into his six-foot-five frame, his stare alone was usually enough to stop huge men in their tracks.
But Ana wasn't a man, and she was damned tired of waiting for Ethan to pull his head out of his ass. He thought he was ignoring the attraction between them for her own good.
Screw that.
She wanted him to get on that plane in the morning and go do the job. How could she not support his goals? Of course she did. The same way he supported her goal to earn her degree and even teased her that one day she wouldn't just work for Sugar Dancer Bakery, but she'd be part owner with her boss and friend, Kat. He wasn't wrong. She'd make herself so indispensable to her boss, Kat would beg her to be a bigger part of the company. That was how Ana did everything, full-on and making herself too valuable to ignore.
But before he left, she wanted to show him he had a reason to come back—her. Once the band's world tour ended and Ana had her degree, they could give a relationship between them a chance.
"Why?"
His sharp question cut into her spinning thoughts. "Why what?"
Ethan regarded her for a beat, then grabbed a chair and pulled it out. "Sit."
Ana strolled over and settled into the seat. She carefully spread the napkin over her lap, aware of Ethan standing at her right shoulder.
Dropping his hand on the table by her filled plate, he leaned down, caging her in. "Why are you wearing contacts?" His gaze tracked over her bare throat and shoulders before his jaw tightened. "And that dress?"
She tilted her chin up. "To remind you I'm a grown woman." Oh look, he doubled down on his glare by adding a squint that made him appear even more lethal and totally terrifying. Or it would be if she didn't know for a fact that he'd never hurt her. She pulled out her perkiest smile. "Is it working?"
"This isn't a date." His jaw worked as he enunciated each word. "Just in case you're confused."
Heat rolled off him, along with the scent of food and pure, clean male. She loved Ethan's competitiveness, his fierce determination to pay off his debts and make his own way in the world. His quick humor and patience also appealed to her. But it was the slightly dangerous glint in his eyes that sparked erotic shivers in her belly, and a heated desire to challenge him. It was the sexualized version of the same drive that had her trying to beat him on their bikes and playing video games.
"Well then, since you picked me up and drove me here—" because Ethan was insanely protective and had insisted, going so far as to borrow a car since he'd sold his, "—should I get a ride home with someone else? I could ask Chef Zane." She worked some real evil into her grin. "Then we can be sure it's not a date."
His mouth twitched. "Smartass." He took his seat across from her, then poured some wine in their glasses.
"In a hot blue dress," she added, and sampled a small sip of her wine. She was still acquiring the taste, but she didn't think her beloved orange soda would really pair well with dinner. "You could be a little threatened that I might pick up another man."
Setting his glass down, he lowered his chin. "Try it and I'll toss your ass in the car and take you home. Now."
His words hung there, tempting the hell out of her. What was wrong with her tonight? But she knew—she couldn't bear the idea of losing Ethan. It just really hadn't hit home until the last few days that he was leaving. "That's kidnapping."
"And? Think there's a law I wouldn't break to make sure you're safe? Zane's a good chef, but that doesn't make him good enough for you, sunshine."
Her pulse skittered up, and flutters winged around her belly. Part of her wanted to surge up and run toward the kitchen just to test him on that. But since she wasn't two years old, she controlled the impulse and teased him instead. "However will I protect myself once you're gone? I'll be bored and probably date all kinds of nefarious bad boys." She broke off a small piece of bruschetta and popped it into her mouth. The warm bite of bread topped with bright tomatoes, spices and a crumble of goat cheese made her moan.
He reached for his water glass. "Have you lost your mind? You're not dating bad boys."
She fought a laugh at the ridiculous order and dug into her ahi. So good, it practically melted on her tongue. "You're right, maybe it's better to skip dating and just hook up."
Ethan choked on his drink and slapped the glass down. "Hell, I deserved that. I can't tell you who to date, I just…"
She leaned toward him, desperate to hear his answer. Did he feel that sick sting she did when she thought of him with other women? "What?"
His jaw tightened. "Let's talk about something else. How's your dinner?"
She wasn't giving up but let him change the subject for now. Focusing on the food, she enjoyed the flavors and textures but most of all, she swore she could taste Ethan's passion for cooking in each bite. "Amazing. I love it."
He set his fork down. "Thank you, Ana. I wanted to bring you here for dinner, but this…" He lifted his hand. "When you told me to come over early because you had a surprise, I never thought it'd be a chance to cook with a master chef."
Hot pleasure warmed her. She loved making him happy. "Today was fun for me too. Some of my best memories are of us cooking together."
"Us cooking?" He squeezed her hand.
"Watch it, dude. I've chopped a lot of onions for you. When you're famous someday, I could probably claim a percentage of your income."
He rubbed his thumb over her wrist. "My cooking helped you study and will ultimately lead to your success. I could claim a percentage of your future income. And I saved your life when you were dying of strep throat."
"Oh, now I was dying?" God he made her laugh. Ethen had shown up at her house to check on her, didn't like how dog sick she was and hauled her to urgent care. "I was fine in a couple days." After antibiotics and a lot of sleep.
"Pretty sure the doctor said you only had minutes to live."
Ana rolled her eyes. He'd make a totally exaggerated boast like that, but whenever Ana brought up the day he'd helped rescue her boss from a madman with a knife, he shrugged it off.
"But heroics aside," Ethan said. "I'll never forget this chance to cook with Chef Zane. Or you."
Do it now. I have to tell him how I feel. Her heart thumped. "I can't ever forget you." All her practiced words fled as a knot of desperation lodged in her chest. But she didn't want to lose this moment, and forced herself to go on. "I—"
"I've brought dessert and coffee." A smiling server carried a tray over. "Key lime pie and molten chocolate cake."
Ana resisted the urge to snap at the woman for interrupting them. The server was doing her job. Besides, the thing that kept them from crossing the line to lovers was that Ethan believed her too good for him. Talking wasn't going to convince him otherwise.
She had to show him she had a bad side too. For that, Ana needed privacy.
An hour later, he parked the borrowed Mercedes in one of her guest spaces, and they headed inside her condo. She loved her little home, but right now it felt too small and tight, like her skin. Her nerves pulled taut.
"Cookies are on the counter if you're still hungry." She gestured to the pastry box and headed to the fridge. Snagging two cold bottles of water, she inhaled a breath of cool air. When she turned around, Ethan was right there, looming only feet from her. She heard the soft whoosh of the refrigerator automatically closing behind her.
"I don't want cookies." He dragged his hand through his hair, his shirt pulling against his chest. Finally he dropped his arm. "You're my hardest goodbye, Ana. I'm not sure I'd have made it through these last months without you. You're my one good thing."
As she stood there with a bottle of cold water in each hand, her throat swelled. For seven years, she had done everything she could to make her dad and stepmom proud and never regret all they'd done to get Ana out of a bad situation and have her come live with them. Since that day, she'd been the ultimate good girl, always in control. It was exhausting, but with Ethan, she'd been able to let go a little bit. Yet the times when Ethan had almost kissed her and stopped, Ana hadn't pushed. Nope, she'd been the good girl, letting the man decided.
Either she took the risk of showing him how much she desired him, or she lost him because she really was exactly what he thought—too good of a girl to take a risk.
Setting the waters down, she hopped up on the counter in the place she'd sat many times while Ethan cooked. "This isn't goodbye."
Ethan settled his hands on either side of her hips, caging her with the force of his sharp attention. "Then what is it?"
Her mouth dried, and blood pounded in her ears. All the muscles in Ethan's arms bunched and strained. Power, restraint and a vibrant hunger pulsed into the air around them. He hadn't even touched her and her body hummed. A bright and fiery need throbbed low in her belly, making her want to break his rigid control and free them both.
Swallowing, she lifted her hands to his face. "This." She kissed him.
Ethan sucked in a breath and went utterly still.
Oh God, what if he rejected her? What if he hated that she threw herself at him? No, don't give up. She feathered her lips over his, pouring her caring and longing into each touch. All the days, weeks and months of yearning for his kiss flooded her system.
Ethan's control shattered on a groan. He sank the fingers of one hand into her hair, and plunged his tongue into her mouth. His palm slid down her back, gripping her ass and pinning her in place.
Yes. Her blood raced, heating her entire body. Sexy chills skated over her skin, and everywhere he touched left a blazing trail. Driven by a fierce urgency, she thrust her tongue against his, the wet slide sparking a fierce hunger.
Or was it the way he held her trapped where he wanted her? Not recoiling at her aggressiveness, but meeting it with his own? Wanting to get closer, she wrapped her arms around his neck. Her nipples ached, warmth swamped her belly, and deep between her thighs, insistent need pulsed.
His palm on her ass dragged her forward, shoving her skirt up and pressing her center flush to the thick ridge of his cock trapped in his jeans. The hard pulse against her panties tore a moan from her throat. Ana gripped his shoulders, rubbing along his shaft, desperation pitching up too fast and brutal.
"I knew you'd be like this." He skated his lips down her throat. "One taste of you and I'd lose my fucking mind."
His words and the warm, wet trail of his mouth sent more shivers from her nipples to her clit. She tunneled her hands beneath his shirt to feel his fevered skin over granite muscles.
With a low growl, his fingers on her hip tightened as he rocked his length along her cleft. Every thrust pushed her higher and she could feel his cock growing thicker, longer and more demanding. A reserve that had ridden her for years melted away, leaving her free to go after what she wanted.
Getting a hold of his hair, she angled his head up to kiss him again. She tasted their shared dinner and Ethan, the deeply male flavor that made her crazed for more. "Touch me. I can't bear it."
He wrapped his hand around her hair, restraining her. His eyes burned like a blue flame as he scraped his fingers up her thigh. "You have no idea the ways I can make you scream in pleasure."
She tilted her hips up, desperate to find out. When he didn't move fast enough, she caught his thick wrist, pulling his hand where she craved it.
The rough glide of his fingers over her swollen bud sent shocks of pleasure arcing.
"Ethan." Her cry ripped out. This was everything she'd dreamed. The ache ramped up to unbearable. She couldn't survive without him doing that again, harder and longer. She rubbed against his hand, chasing that rising desire with a wantonness. Only with Ethan could she be this free and wild. "Please. No one makes me feel like you do."
He jerked back, eyes nearly feral, cheeks flushed. "Goddammit." Fury swelled his shoulders. He clenched and unclenched his fists.
Her hands fell to the granite, and her stomach plummeted, all her hope crashing down into a pile of twisted pain. "What did I do wrong?"
She hated the weakness, the tiny part of her still desperate to just be enough. A little voice in her head said, What did you expect? You're a pathetic little attention seeker, begging for it. He didn't really want you. You just imagined it.
Stop it. This wasn't the same thing. Needing reassurance, she forced herself to look at Ethan.
Ruthless determination and regret dug into his face, making him appear older and harder. "Nothing. I'm the one who doesn't do relationships. Ever. I fuck, leave and never think about the chick again. Go find yourself a man who's good enough. I'm not that guy."
He snatched his keys out of his pocket and strode to the door. Opening it, he looked back for a breath of time.
Then he left, closing the door and breaking her heart.