The Plus One Chronicles
**Please Note: The Plus One Chronicles is a series of adult contemporary novels and are not intended for younger readers due to mature content.**
A Proposition brings them together, will an Obsession tear them apart?
A wicked proposition…
A sensual possession…
A dark obsession…
The Plus One Chronicles:
Searing passion and fiery vengeance collide in three explosive books.
[youtube:http://www.youtube.com/watch?v=MSTm81OGR6c]
GERMAN RELEASES
Egmont Lyx publishes The Plus Chronicles in German as duology in December 2014/January 2015.
BRAZILIAN RELEASES
There series also sold to the Brazilian publisher Editora Charme.
Book 1 and 2 are now available and 3 will be out later this year.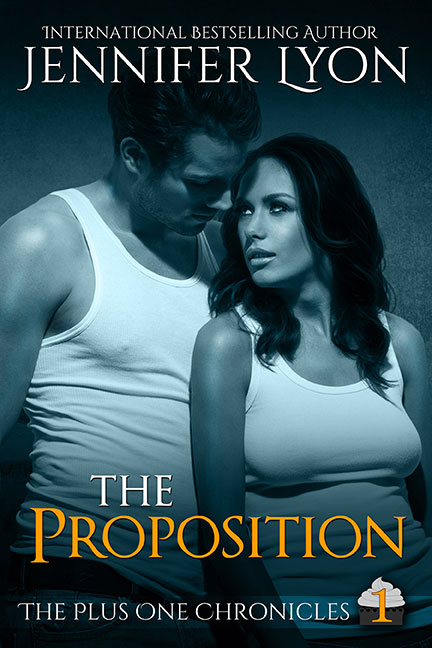 The Proposition
The Plus One Chronicles, Book 1
Order eBook:
• Kindle •• Nook •• Kobo •
• Apple Books •• Smashwords •
Rich, sexy and volatile, Sloane Michaels has a dark agenda that keeps his heart on ice. His extreme wealth gives him the control he craves and his skills as an ex UFC fighter the tools he'll need to extract his ultimate revenge. But when the woman he never believed he'd see again crosses his path, Sloane is caught between the vengeance he needs and a sexual conquest he craves.
Kat Thayne has been in survival mode for six years, hiding behind the sweet creations for her bakery. But when a random carjacking brings her face-to-face with her darkest fears and hottest fantasy, Kat is forced out of hiding and offered a dangerously passionate proposition. One she knows she isn't strong enough to refuse.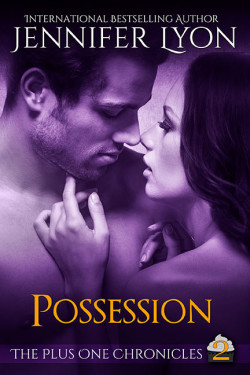 Possession
The Plus One Chronicles, Book 2
Order eBook:
• Kindle •• Nook •• Kobo •
• Apple Books •• Smashwords •
Savagely sexy billionaire Sloane Michaels ruthlessly controls his life and everything in it. Even his sex partners are carefully negotiated plus-one arrangements, including his latest, the fiery bakery owner, Kat Thayne. But Sloane's control is challenged when his mentor becomes seriously ill, and his need for Kat, his need to possess her at all costs, rivals only his single-minded goal of vengeance for the murder of his sister.
After surviving an attack six years ago, Kat Thayne escaped her fears in the protective world of her beloved bakery. Then Sloane Michaels storms into her life, making her feel beautiful, strong and sexy. Yet as Kat pushes her boundaries and uncovers a dangerous secret in her past, Sloane's controlling side emerges. Worried that Sloane will possess her mind, body and soul, Kat fights to keep her hard won independence. But just as Sloane demands her complete surrender, she discovers he has a dark side that could destroy them both.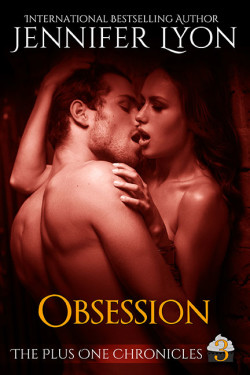 Obsession
The Plus One Chronicles, Book 3
Order eBook:
• Kindle •• Nook •• Kobo •
• Apple Books •• Smashwords •
In the explosive conclusion to The Plus One Chronicles Trilogy, obscenely rich, jaggedly handsome and still obsessed with love and vengeance, Sloane Michaels must face an impossible choice: lose the woman he loves or betray his twin sister's memory.
Watching the man she adores destroy himself for revenge, Kat Thayne knows she should run and never look back. But running isn't her way anymore. Kat has grown into a fierce fighter, and the man who helped her get there is the very man who needs her strength now. But as the sizzling passion and hard-won love bind Kat and Sloane even tighter together, old secrets and lies explode around them. Danger threatens. And Kat soon realizes that she's risking more than her heart to be with Sloane…she's risking her very life.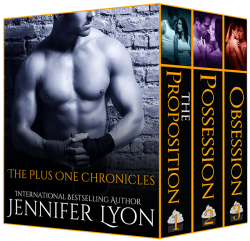 The Plus Chronicles Box Set
The Plus One Chronicles, Box Set
Order eBook:
• Kindle •• Nook •• Kobo •
• Apple Books •• Smashwords •
Don't miss this bestselling,
sexy and emotional trilogy in a boxed set!
A proposition brings billionaire ex-UFC Fighter Sloane Michaels and beautifully damaged Kat Thayne together in fiery passion, but will a dark and dangerous obsession tear them apart?