Thursday, November 18th, 2010
Yesterday, I was enjoying a leisurely lunch…
Okay, that's a lie. I was trying to cram in lunch before having to run to the vets office to buy more meds for Sadie Money Pit. I was eating cottage cheese and wheat thins mostly because it's quick and easy. Sadie was outside playing with one of her toys, and I was trying to listen to some news when I glanced at the wheat thin box and saw something that looks like this: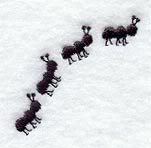 An ant! It was only one ant,  not a trail…but EWWWW! I jumped up and looked in the pantry.  There were a few more random ants.
Crap.  I guess it's time to clean the pantry. I spent some quality time doing that, taking a break just long enough to run to the vets and make sure they are flush in cash, then back to more cleaning.
My life is so glamorous. And given the meds I'm giving  Sadie to get rid of any lasting parasites she's hosting, I suspect it's only going to get more glamorous in the next few days.  Sigh.
I swear, if the ants come back, I'm going to lose it.
Anyone else battling ants? Any tips? And do you all clean your pantry just because? Or only when desperate?