Friday, April 21st, 2017
Wow it's been a fast and weird week full of technical glitches. Most of them are solved now though. So here's my announcement–which will go out in my newsletter next week: I've added a bonus scene to the digital version of my novella, SAVAGED SURRENDER and the book is free at most vendors! (If it's not free in a country outside the US or the UK, we're working on it and it will be soon). If you haven't bought the book, get it now!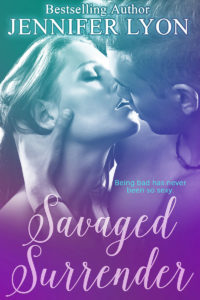 Kindle / Nook / iBooks / Kobo / Google Play
But if you have bought it and just want the bonus scene, you can grab that at InstaFreebie here. (You just have to put in your name and email to claim the file).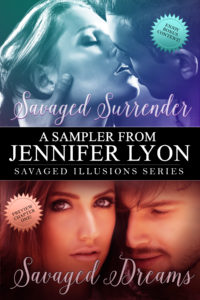 Click here to claim your copy on InstaFreebie
Warning: This is a very sexy scene. After I finished writing the book, Ethan (the hero) wouldn't leave me alone. He kept telling me that he'd promised Anna, his heroine, that he'd fulfill her fantasy and I ended the book too soon. At the time, I didn't have space in the book for the scene as it was going in 1,001 Dark Nights, so I closed the door before they got to the actual fantasy.
Now I've opened that door

Read at your own risk! And I've also included a first chapter preview to Savaged Dreams (releasing June 19th, 2017).
Otherwise, I'm hunkered down and editing Savaged Vows to get off to my editor by Sunday night. I'll make the deadline! And Sunday we're having Biker Witch and her Biker Hubby out for awhile which will be an awesome break.
I love writing these books, but work is consuming my life and I dream of a whole weekend off one day!
What are your weekend plans? Whatever they are, Happy Friday and Have a Great Weekend!