Monday, September 3rd, 2012
Happy Labor Day (in the States)! Hope everyone has a day off today!
So yesterday,  Wizard went out to breakfast. And while there, we spontaneously decided to drive to San Diego and take the two-hour harbor cruise. It was wonderful!
Here's the San Diego sky line from the ship. It's not a great pic, but the skyline was amazing.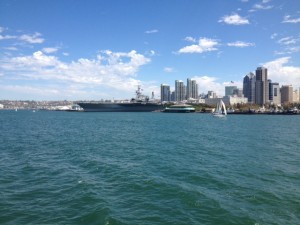 After that we went by the navel ship yard, but I didn't get a good enough shot of that. I was so paranoid I would drop my iPhone in the bay.  But my iPhone made it home with me, safe and sound and must to Wizard's relief! Although he's still laughing that I accidentally turned the video on and couldn't get it off. We were on the top deck and I couldn't see the screen in the blazing sun. I got great video of our feet…but I'll spare you that.
This is one of my shots of the Coronado Bridge. It's amazing to see!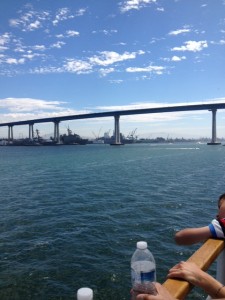 Next is a pic I took of myself while Wizard was off getting cold drinks for us. He said I should I shouldn't put on the blog as it doesn't meet his standards of what a pic of me should look like.  Yeah…like I'm going to listen. This is what I look like after about an hour and a half in the heat and wind.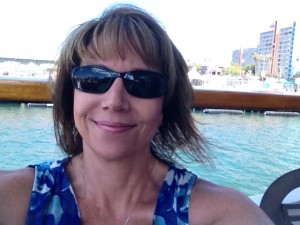 After we docked, we walked along the bay, looked at shops and then ate a late lunch on the pier. We had great seats right next to a window overlooking the bay. Look who tried to join us: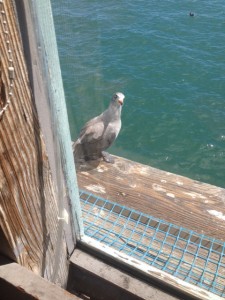 I think he was applying for a position as a Wing Slayer Hunter

And last, as we were walking back to the car, we passed the awesome Midway Aircraft Carrier (retired). We went on this last year and loved it. In this pic, you might be able to make out the jets sitting on the deck to get an idea how big this ship is.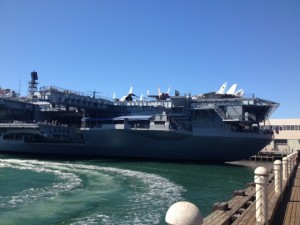 We had fun, and more importantly, Wizard relaxed. Well we both did, but he's been working so hard, I was glad to see him relaxing.
Today I'm working!
How was your weekend, and do you have any special plans today?