Wednesday, February 18th, 2015
So…Wizard and I saw Fifty Shade of Grey. I'm not going to give my opinion again because I've said it in a few places, and who really cares what I think? I just support writers hitting mega success. But I know you all care what Wizard thinks, right? No worries I asked him for you!
We'll just skip over his opinion of Dakota Johnson because I think you all can guess that

I mean come on, hot, cute naked girl? Last time I checked, Wizard had red blood laced with testosterone running in his veins.
So I asked Wizard, "What did you think of Christian Grey in the movie?" I SWEAR I'M NOT MAKING THIS UP.
He looked at me and said, "I'm Batman."
Only he said it like this audio clip:
Okay, now I've heard a ton of commentary abut Fifty Shades but this is new.  Confused, I'm asked the obvious,  "WHAT????"
Wizard explained, "That Christian guy just kept showing up out of nowhere rescuing Ana. Every time I was waiting for him to say,  "I'm Batman."
I laughed so hard. Where the heck does he come up with this stuff? BATMAN??? Now all I can hear is "I'm Batman" over and over and I laughed the rest of the day. Every time Wizard walked by me, I was like, "Say it again!"
So that is Wizard's rather unique commentary on Fifty Shades of Grey.
And now, of course, Batman is on my mind, which naturally makes me think of Christian Bale. So guess who is our hunk candidate today?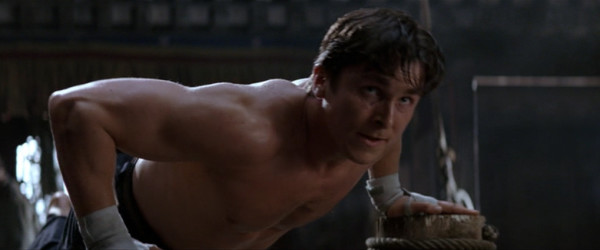 What do you think, is he worthy?