Batteries Required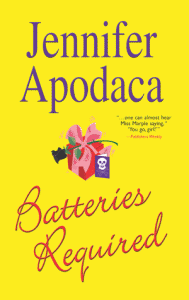 Samantha Shaw Mysteries, Book 4
Kensington (January 1, 2006)
ISBN-13: 9780758204523 ♦ ISBN-10: 0758204523
Order Trade Paperback:

Honorable Mention in Daphne Du Maurier Award of Excellence
If only life came with operating instructions. Samantha Shaw's dating service, Heart Mates, is barely paying the bills, and her up-and-down relationship with private investigator Gabe Pulizzi isn't exactly a ringing endorsement of her knack for romance. The last thing she needs is to add murder to the mix…again.
Samantha Shaw should have known a sample kit of sex toys would lead to trouble. But when Mitch St. Claire offers the kit to Sam's friend Angel, who's launching a lingerie business, the girls think the naughty playthings inside will be good for a laugh. Finding a time to look over the samples in privacy is easier said than done, however. Before the weekend is over, Sam's wrestled them away from her two inquisitive sons, a fervent romance fan named Zoe Cash has shown up demanding to be introduced to novelist R.V. Logan, whom she's heard Sam knows—and Angel is missing from her ransacked, bloodstained house.
Sam has more important things for Detective Logan Vance—aka R.V. Logan—to do than deal with a lovesick fan, such as finding her best friend. With Gabe in tow, Sam questions Angel's ex-husband, Hugh Crimson, who admits he and Angel argued two days earlier. Sam knows her friend's divorce has been filed under "unpleasant" but she can't believe Hugh's capable of ex-wife-napping—or murder.
If Hugh isn't a killer, who messed up Angel's house—and why? Where is Angel? And what's Sam going to say when Gabe insists she make a decision about their relationship? Solving this case will require every ounce of energy Sam's got, and she's going to unearth some high-voltage surprises along the way…