Dating can be Murder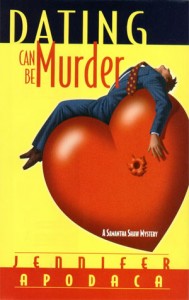 Samantha Shaw Mysteries, Book 1
Kensington (April 2003)
ISBN-13: 9780758200754 ♦ ISBN-10: 0758200757
Order Trade Paperback:

Winner of the 2003 Daphne du Maurier Award Of Excellence in Mainstream
"A new cozy with a bit of sass."
—Publishers Weekly
Samantha Shaw remembers a time when she believed in true love. When buying Heart Mates—the dating service her now deceased husband did business with—seemed like a good idea. But her romantic reveries ended the day she found a stash of sexy panties (not hers) hidden in his car. Leaving Sam with one question: What else was the cheating creep hiding? Try an illegal drug trade and a whole lot of money. That's just some of what surfaces after a man walks into Heart Mates and promises to kill Sam—and her kids—if she doesn't come up with the cash her spouse stole.