Ninja Soccer Moms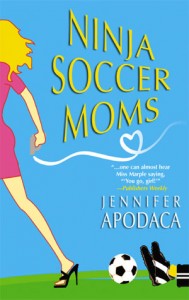 Samantha Shaw Mysteries, Book 3
Kensington (April 5, 2005)
ISBN-13: 9780758204509 ♦ ISBN-10: 0758204507
Order Trade Paperback:

Winner of the Ross Thomas Award for Best First Line in a Mystery or Thriller
Daphne du Maurier Award of Excellence Nominee
Samantha Shaw was thrilled to give up the soccer mom scene. With her cheating husband dead, a struggling dating service to run, and a brand-new relationship with ex-cop Gabe Pulizzi to figure out, her plate is pretty full. Trouble is, Sam's life has a way of serving up murder…
Samantha Shaw hates soccer. A slave to her son's team for too many years to count, she was glad to hand the ball over to a new generation of moms when her life took a few very unexpected turns. But she doesn't have a problem with revenge—especially when it's directed toward cheating ex-husbands. So when Janie Tuggle, the former wife of town hero and championship-winning soccer coach Chad, informs Sam that her ex is embezzling funds from the team coffers, Sam doesn't mind leaving her Heart Mates clients to their own devices while she investigates.
A run-in with Chad leaves Sam positive that the weasel is not only cheating the team to the tune of $16,000, but had been cheating on Janie every chance he got. Exposing him will be a pleasure—but before she can make a call, she learns from police detective Logan Vance that Chad's been found dead in his office. And, as usual, Sam is a prime suspect…
Of course, so is Janie, and Sam assures her that she'll clear both of their names, with Gabe's help. But to her surprise, her boyfriend and sleuthing partner has clammed up—because he's investigating the case for Dara Reed, the sexy, scantily clad team mom who had been Chad's latest lover.
On her own this time, Sam feels a little like a soccer ball herself, bouncing between new and needy Heart Mates clients, the discovery that Chad was a blackmailer, and information that casts sleazy Dara in a whole new light. With Detective Logan breathing down her neck, and Gabe wrapped up in his client's problems, getting to the bottom of Chad's death feels like a long shot. But as another cheating husband's crimes threaten Sam's business, her brand-new relationship, and even her life, she desperately needs to score…