Thrilled to Death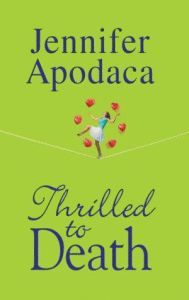 Samantha Shaw Mysteries, Book 5
Kensington (February 1, 2006)
ISBN-13: 9780758209887 ♦ ISBN-10: 0758209886
Order Trade Paperback:

On the surface, Samantha Shaw's life looks pretty good—she has a hot boyfriend, private investigator Gabe Pulizzi, and her own business, Heart Mates Dating Service. But raising two boys and keeping track of her ornery magician grandfather is tricky business…especially when you add murder to the mix….
Knocking down the wall between Samantha Shaw's dating service, Heart Mates, and her boyfriend Gabe Pulizzi's P.I. office seemed like a good idea. The construction dust is causing chaos, but the real trouble is how Sam's going to handle her two sons, her grandfather, her business, and training for her P.I. license—and squeeze in a relationship with Gabe at the same time.
She hasn't even begun to figure it out when her grandfather, Barney Webb, winds up in trouble of his own—he's been accused by arrogant magician Shane Masters of hiring a hit man to kill him. Sam knows it can't be true, despite Shane's practice of exposing other illusionists' secrets in a series of popular "spoiler" shows. Proving Grandpa's innocence is priority number one, even though the old man is strangely resistant to her offers to get to the bottom of Shane's accusation.
Then Grandpa's protégé Fletch Knight shows up in Lake Elsinore, asking Barney to help him videotape backdrops for his upcoming performance at the House of Magic. Sam thinks Barney should be focusing on clearing his name, but she doesn't have much time to push the issue since she's just landed a new case—discovering which magician's secrets Shane will expose for Shane's ex, Nikki Eden, whose high-concept illusions depend on secrecy.
With another of Grandpa's former students in town, and Gabe's troubled brother arriving unexpectedly, Sam is up to her ears in sleight of hand and whispered secrets when Shane Masters' murdered body suddenly appears. Detective Logan Vance, Sam's police connection, is furious that she's withheld information. With so many balls in the air, Sam is tempted to throw in the towel and take up juggling, but finding a killer comes first. There's no shortage of suspects, but with Sam's own life at stake—again!—figuring out whodunit is going to be the most spectacular trick of all…