(Click on the covers or on the book titles to read more).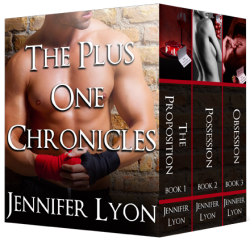 The Plus Chronicles Box Set
Order eBook:
• Kindle •• Nook •• Kobo •
• iBooks/iTunes •• Smashwords •
Don't miss this bestselling,
sexy and emotional trilogy in a boxed set!
A proposition brings billionaire ex-UFC Fighter Sloane Michaels and beautifully damaged Kat Thayne together in fiery passion, but will a dark and dangerous obsession tear them apart?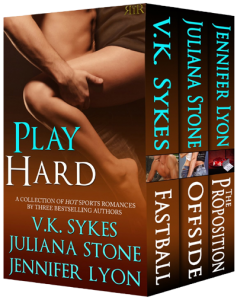 PLAY HARD
Three full-length, sexy sports romances
that bring the heat!
including
THE PROPOSITION by Jennifer Lyon:
Book one in The Plus One Chronicles trilogy.
OFFSIDE by Juliana Stone:
Book one in The Barker Triplets trilogy.
FASTBALL by V.K. Sykes:
Book one in the USA Today Bestselling series,
The Philadelphia Patriots.
Order eBook: Kindle | Nook | Kobo | iBooks

A Proposition brings them together, will an Obsession tear them apart?
A wicked proposition…
A sensual possession…
A dark obsession…
The Plus One Chronicles:
Searing passion and fiery vengeance collide in three explosive books.