Monday, January 19th, 2009
Welcome!
Joke of the day:
Question: How do you make a witch scratch?
Answer: Take away her "W"
It's the first day of the Cyber Launch Party for BLOOD MAGIC, the first book in a new paranormal series. Romantic Times Book Club summed up the book as: "Witchcraft, magic and dark curses take on a new twist in Lyon's action-packed series launch." They also gave the book a 4 ½ HOT, which is awesome!
To celebrate the launch, I'm giving away prizes here on the blog! For five weeks from January 19th through February 20th. Each weekend, I will randomly draw one winner's name from that week's comments and announce the winner on the blog. The winner will then need to email me at Jenniferlyonbooks@gmail.com with the info to mail the prize to them.
The prizes will be:
Week One (January 19-23) $20.00 gift card to Barnes & Noble

Week Two (January 26-30) Candle set with $15.00 Starbucks Card

Week Three (February 2-6) Peace, Hope and Serenity Bracelet

Week Four (February 9-13) Box of Paranormal Books

Week Five (February 16-20) CHARMED; Season Three DVD Set
Then, on the official release date of BLOOD MAGIC, February 24th, I will draw one name from ALL the comments over the five weeks for the Grand Prize!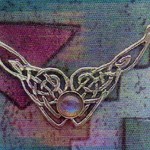 A Celtic Knot Centerpiece Necklace with a Rainbow Moonstone! The gemstone shown here is a Labradorite, but the one in the necklace I'm giving away is a Rainbow Moonstone. This picture isn't very good, but you can see it here where I bought the necklace: http://www.silverenchantments.com/CelticJewelry/celtic-knot-centerpiece-pendant-necklace_2856.html#2856_gemmed
I'm really excited about this necklace as a grand prize. In BLOOD MAGIC, the heroine, Darcy MacAlister, wears a necklace just like it, only without the gemstone. Darcy has no idea she's a witch, and in fact, she didn't even know witches existed. But as the danger rises and Darcy must discover who she is, the necklace plays an important role.
I ordered a necklace for myself too!
So come in and join the fun! For today's comments, tell me your favorite paranormal book or author. Or are you like me, and unable to ever pick a favorite?