Thursday, May 28th, 2009
Coffee or Tea Witch?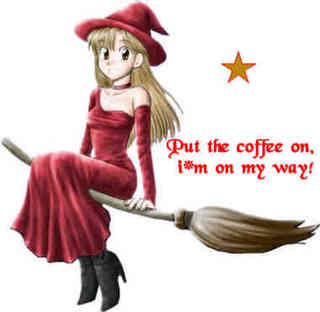 I'm a coffee witch!  I love coffee.
Some people (cough-husband-cough) might say I'm addicted to coffee. Why does he say that like it's a bad thing? So weird.
Anyway, yesterday I was running errands, and one of those stops was Target. Which has a Starbucks. And I, thanks to my kids, have Starbucks gift cards. So I got a Nonfat Raspberry Latte. I used to get Raspberry Mochas, but then decided the nonfat latte had fewer calories.
So…back to my story. I'm standing there waiting for my coffee when I see some brochures, and one of them said, "Nutrition By The Cup." I really should have turned my back, but like a fool I grabbed the brochure.
 Sigh…near as I can figure my Venti Nonfat Raspberry Latte is at least 250 calories. That's with skim milk and no whip cream. WHY do I feel compelled to read this stuff?
For you tea drinkers, a Venti Green Tea Latte is 300 calories.
At home, I just drink black coffee.
So what about you witches? Tea? Coffee? Water?