Monday, November 23rd, 2009
Vacation!
Okay, not really a vacation..my week is going to look more like this…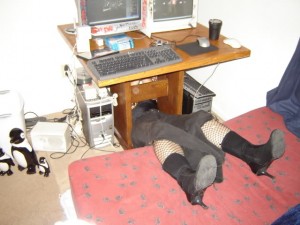 Although I'd probably get more work done if I sat at the computer instead of under it! The twisted point is I'm taking a week off from this blog.
But first, tell me are you celebrating Thanksgiving? Staying home? Going to relatives?
I'm having family out, and I'm really looking forward to it. Guess who I am most excited about? I'll give you a hint…
He cleans my kitchen floor for me every time he comes to visit

Have a great Thanksgiving witches! Come back next week–we'll do another cage fight! Also, I'll be sure to check the comments.