Tuesday, January 5th, 2010
Storm Watch!
Wizard sent this warning to me.
With all the news on TV lately about the sub zero weather and snow that the east coast and upstate NY areas are experiencing, we shouldn't forget that Southern California has it's share of devastating weather  also.
I've attached a photo illustrating the excessive damage caused to a home   from a west coast storm that passed through the San Diego area a couple of days ago. It really makes you cherish what you have, and reminds us not to take life for granted!!!
Warning: The attached picture is quite graphic and may not be
suitable  for younger viewers.
scroll down..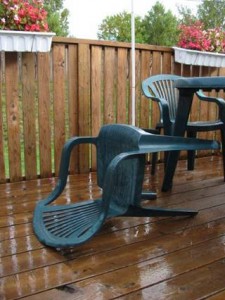 I laughed my butt off! In Southern California, if the weather folks thing there's a chance of any moisture, they call it Storm Watch! And use their, Serious News Voice.
Most of the time, I love So Cal, but it really can be the land of Drama Queens.
For those of you experience Real Weather, you really do have my sympathies! And try not to judge us So Cal folks by the Drama Queen Newfolks