Monday, January 18th, 2010
Weekend Round Up!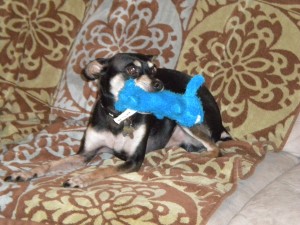 Guess what I did this weekend!
I went to visit Bailey! Bailey lives with my two sons.  Middle son was at work, so I went to see my oldest son.
On my way I stopped at Target because I wanted to buy Bailey a new toy.
Target only had stupid toys. So I then went to Petsmart where I found not one but three new toys for Bailey.
I didn't buy anything for my two sons

I know, that's just wrong.
Oldest son and I went to lunch, we ate out on patio and talked.  Those are the moments that make every second of the years filled with trials and worries and sleepless anxiety of raising kids.
I just started a new book, THE MANE EVENT  by Shelly Laurenston.  I'm only 60-some pages in, but OMG!!! Love, love, love her writing! She's so dang funny! Good thing I'm not prone to jealousy…oh wait, I totally am.
So how was your weekend?