Thursday, January 21st, 2010
Biker Witch Photography
It's pouring!
So I thought, hey, I'll post of pic of me on a sunny California day to cheer us all up.  After Christmas, I met my sister, Biker Witch, for coffee. We sat out on the patio in the bright sunshine.  I showed her the really cool camera that Wizard got me for Christmas.
Biker Witch loves cameras. In her excitement she took a picture of me…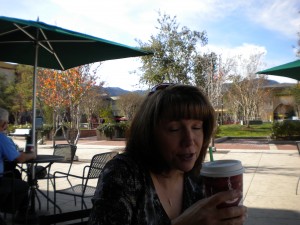 Biker Witch blames ME for this unflattering picture.
But I think it's the photographer and that she shouldn't give up her day job.
What do you think?
Note to Biker Witch:  Just kidding!! I'll buy you a Starbucks if you'll forgive me! And you know you're going to forgive me, you always do!