Tuesday, March 30th, 2010
Regrets?
From Coed Magazine, top ten things you do in your 20's that you'll regret in your 40's
1) Not Spending More Time With Your Parents
2) Bad Credit
3) Smoking
4) Not Finishing School
5) Not Traveling (Enough)
6) Getting Married Too Young
7)  Choosing Your Best Friend's Girlfriend Over Your Best Friend

Tattoos
9) Risque Internet Pics
10) Body Piercing Plugs
Every now and again, I think about #4, not finishing school. I don't regret it a lot–I went back to school when the kids were small and was trying to decide what my passion was–and it was (and still is) writing.   Maybe a bit of #5, not traveling enough but I married and then we had kids. I don't regret #6. marrying young. I married at 20, which seems insane now, but it all worked out.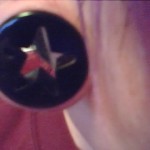 And I just have to say, I don't get plugs. See this genius with the star-shaped plug in his ear? Looks like mutilation to me! You can see through the star. That is a HOLE in his ear.Think he's going to regret that in his 40's?
Now in shape 20-something women with belly button rings look cute, so I get that.
But plugs?
Oh and choosing your best friend's girlfriend over your friend–that's just slimy! Massive Hunk Fail!
So do you have any regrets on this list?