Tuesday, May 25th, 2010
Randomosity
Randomosity…
What? It's a word! It is! Well is should be, that's all I'm saying! It means: Here's my random thoughts

I finished DARK LIGHT  by Jayne Castle (Jayne Ann Krentz) and then I read THE SECRET PASSION OF SIMON BLACKWELL by Samantha James.
My reading slump appears to be over!
However, I do have a book to write so I can't read as much as I'd like too.
Key's book so full of highs and lows for me.  Every hump makes me think I'm home free, and then I stumble and fall again.  I know why I'm tangling up right now, it's a matter of sorting out the plot threads. You know how when you dump all your necklaces into the jewelry box, then pull them out later and they are a big clump? That's where I am right now.
I can do this! I know it. Just have to take a breath and figure it out. And maybe some plot threads need to be tossed.  Or something.  Sometimes, I think I should learn to destress like Bailey: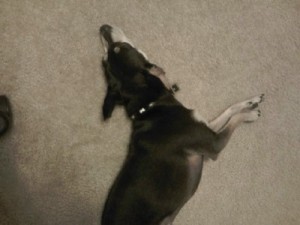 He just lays down on the carpet and goes to sleep. What a life! Of course,  if I did that, I'd immediately start thinking, "Hmm, maybe I should vacuum the carpet." And then I'd start calculating how much it would cost to put in wood floors just so I wouldn't have to vaccum. But then I'd wonder how do you clean wood floors? Would it be more work than vacuuming?
And if I put wood on the stairs instead of carpet, would Linc take bets on how long it would take before I slipped and fell down the stairs?
And that would bring me right back to worrying about the book.
What does Bailey think about when he sleeps? I bet he doesn't worry about vacuuming the carpet!
How about you?  What's your Randomosity for today?