Monday, June 14th, 2010
Monday…Again
Mondays just keep coming back! Haven't we fired these Mondays yet?
Bailey came over on Saturday and we played.  I thought that maybe Stuffed Puppy might have learned something about playing after watching Bailey.  So on Sunday, I gave Stuffed Puppy one of the bones that Bailey left at our house. And he took to it like  a champ!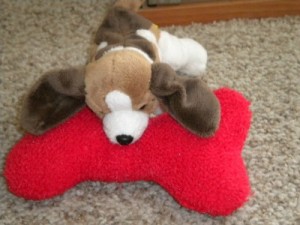 I was so excited, I said, "Look Wizard, I think he's chewing on the bone!"
Wizard said,  "It's a big bone, it'll keep him busy while we go to the movies."
So Wizard and I went to see KILLERS.  (Funny movie!) Then we went home. I was so excited to see what Stuffed Puppy had done with the bone. Maybe he's finally…doing something. Anything.  I ran in the house, and frowned.  Stuffed Puppy hadn't moved. At all. See for yourself: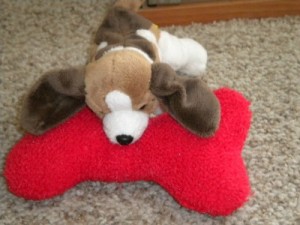 "Wizard, I'm telling you, there's something wrong with that dog!"
Wizard smirked.  "I think he's the perfect dog."
Sigh.
So how was your weekend?