Monday, June 28th, 2010
A Question, and Weekend Roundup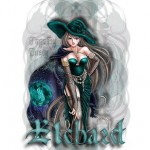 So where does a witch go for help?
HERE!!! I'm here to ask you all a question.
What do you want to know about the Wing Slayer Hunters? I'm going to expand this site into a more traditional website in a next month or two, and do a Wing Slayer Hunter page.   So what do you want to know about on the site? More about Axel and his crew? About their witches? Five questions for each? Three traits? What they like in a woman? I'm trying to keep it fairly simple and fun to read.
I won't be able to use everything,  and time is a huge factor, but any help you all can give me is greatly, hugely and very much appreciated!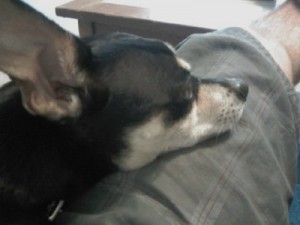 Okay and on to our weekends, mine was all work, but I'm past page 300 in my revisions, so YAY! I have less than 200 pages to go, then I need to do a last read through to get it clean and send it to my editor July 5th  I have no idea if the book is any good, but it will be done.
Bailey is coming over today! How am I supposed to work with Bailey Dog here? So not fair! My son swears this is a picture of Bailey watching soccer with him over the weekend, but it looks to me like Bailey is bored and probably thinking, "Hey when can I go play with that super cool witch again?" And then my son said, "Fine, I'll take to you see her, but she's not cool, she's my mom. "
So how was your weekend? And don't forget, give me your suggestions for a Wing Slayer Hunter web page!