Tuesday, July 6th, 2010
Let's Catch up!
I'm back!
I finished writing/editing Key's book and sent it in on Sunday.  I worked long hours this last month to get this book done and in.
And my reward?
Monday!  The three boys, Wizard and I were out at the pool with Bailey.  SO MUCH FUN!
Here's Bailey when we coxed him on a raft: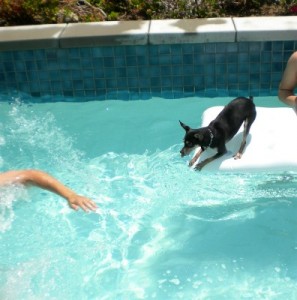 Then Bailey swimming to the steps: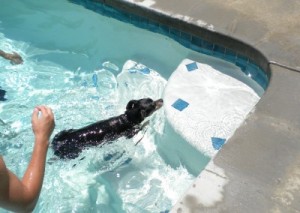 I also got awesome pictures of my sons jumping super high…but I can't post those, darn it.
Do you ever have just one of those perfect family days? We BBQed hamburgers for lunch, swam all afternoon (there may have been some gin and tonics going around) and then had sirloin tip and chicken for dinner.  Oh and chocolate chip and macadamia nut cookies!
How was your weekend? Did you guys get Monday off? Let's all catch up!