Monday, August 23rd, 2010
Monday and More Bailey
I'm over at MurderSheWrites today if anyone is interested.
My weekend was quiet–quieter than it's been in a long time, which was nice. I sent a big chunk of my revised book off for an emergency consult to a good friend, and let me tell you, she is a genius.  She diagnosed the problems! I am so psyched! It's so exactly what Key's book, and Key himself, needed! I have a lot of work ahead of me in the next couple weeks, but I think it'll be worth it.
Now let's talk about Bailey Dog. I didn't get to see him this weekend but my son sent me pics titled, "A Day in Bailey's Life."  He said he followed Bailey around to document what Bailey does all day.  Son's conclusion: Bailey doesn't do much.
A few of the pics: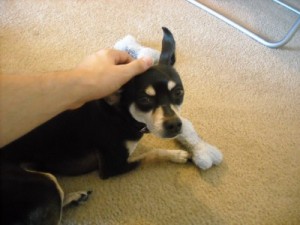 Here Bailey is sad that no one wants to play with him.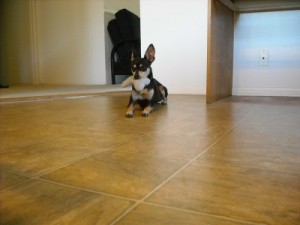 He goes to the kitchen and waits.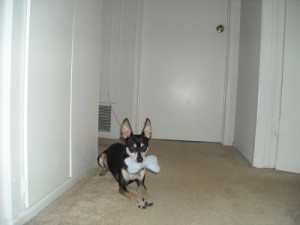 Then he goes to the hallway and watches all three doors, hoping someone will play with him.
And I'll stop with the pics now. My son sent me a total of eight pictures and I have two thoughts:
Thought number 1: Bailey, come to my house! I'll play with you! Plus there are lizards to chase  in the back yard, AND my kitchen floor needs cleaning!
Thought Number 2:  Sons and I are Bailey Freaks and should find better things to do in our spare time!
So how was your weekend?