Monday, November 8th, 2010
Weekend Roundup!
It was a fairly quiet weekend, which was nice. I finally finished reading Lind Howard's BURN.  Between being sick and the new puppy, it took well over a week to read the book. I thought it started slow but I liked it. Otherwise, I finished my revisions and will send them to my editor today.
We took Sadie for her second set of puppy shots.  She cried when she got the shot but was fine otherwise. Then my son and I gave her a both. The doc screamed and climbed into my shirt. It was half sad and half hilarious.  Poor baby. There was only an inch of water in the tub! I'm guessing she's not going to be jumping into the pool anytime soon!
Here she is sleeping in her favorite spot under my desk.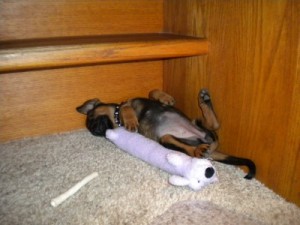 See? A total baby.  I won't talk about Sadie all the time, I swear!
How was your weekend?