Monday, November 15th, 2010
Monday!
Wizard has lasted two weeks with Sadie! Come on, admit it, you're all amazed! I know I am

Seriously, Wizard is trying so hard. Saturday, he told me to go to my meeting and he took care of her by himself for hours. And I got out of the house, hanging out with two-legged friends.
When I got home he said he has no idea how I do it all day. LOLOL! I feel the same way. I love her one minute and think evil thoughts the next.
And just to test us,  Sadie ended up with some little parasite friends.  All together now, let's say, EWWWW!!!!  Sigh.  Then we found out how expensive a trip to the vet and meds are.
Poor Wizard. He can use all your spells (and alcohol!)
The vet told me something about my sweet little Sadie. See her here sleeping with her baby under my desk?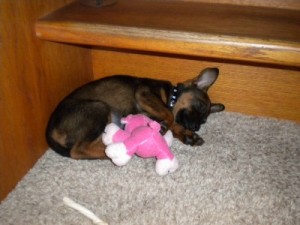 Don't let that picture fool you. Sadie is a DRAMA QUEEN! The vet said all German shepherds are drama queens and not to give into her.  I burst out laughing! That fits her. Sadie the Drama Queen.
So how was your weekend?