Thursday, January 27th, 2011
Dog or Bunny
It's one of those Random Days where logic has no say…
For years we had a bunny named Willy who looked like this: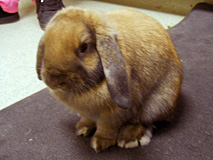 Willy was a great pet! When we got him, he'd never been out of his cage. The first day we let him out, he ran about 10 feet and  then flopped over on his side, exhausted. But he got used to it, and loved the freedom. He had the run of the back yard, and the hill where he dug holes. He came in his cage every night (we locked him in for safety).
Willy had many adventures…like the time he got out of the yard but I didn't know it. I was taking out trashcans one day, when I heard this noise. Imagine my surprise when it was Willy hauling ass around the street corner WITH A DOG CHASING HIM! I thought Willy was in the backyard!  I was completely stunned. The rabbit saw me, ran right for me and leaped into my arms. Then he played dead (it's a rabbit thing).
The dog skidded to a stop on my drive way and started at me.  I said, "No!"  The dog dropped his head, totally bummed that his fun was over, then turned and trotted off.
Anyway, I'll stop boring you with Willy stories. But what made me think of Willy? This dog picture on a shelter website: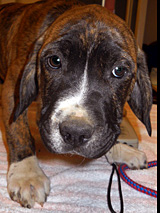 Doesn't he have a bunny face? What do you think?