Thursday, May 5th, 2011
Reading!
I've been reading more! I just finished Patricia Briggs first book in her Feral series, DESIRE UNTAMED. I enjoyed it. It's not a 5 star read for me, but I know people love, love, love the books and I see why!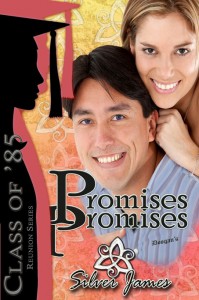 Right now, I'm reading Silver James (**waves madly at Silver!**) PROMISES PROMISES.  I just shy of half way through and totally loving it! I'm even a little surprised because novella length books are a hard sell for me. I just don't always love them, but his book is hitting all the right buttons to draw me in and have me rooting, and rooting hard, for the heroine Kelly.  I'll let you all know what I think when I'm finished!
So far, I haven't been called in for jury duty. I've had all week fairly free, but Friday I have a hair appt I don't want to miss. I'm going to be peeved if I get called in on Friday! Just warning you all so you can take cover

Okay, what are you all reading?