Monday, June 20th, 2011
Weekend Roundup!
We had a great weekend, and Wizard had a really nice Father's Day.  Our oldest son took us out to dinner on Saturday night, middle son came out and we BBQed on Sunday and poor youngest son had to work, but he called Wizard and they chatted about boring guy stuff so everyone was happy. But the most important thing, of course, is what did I decide on for dessert? I won't keep you in suspense: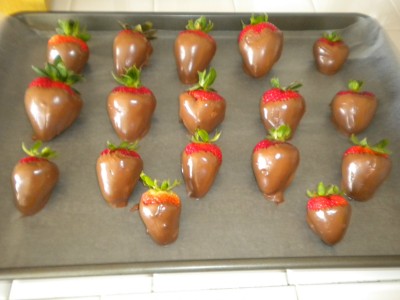 I made chocolate dipped strawberries, and they were delicious! Let's just say that Sunday was a day off from Weight Watchers

  And the strawberries were a hit! Evil Wizard took a pic and sent it to youngest son just to torment him. I laughed because…well…I'm evil too.
How about you all? How was your weekend?