Monday, November 7th, 2011
Weekend Roundup
It was a pretty good weekend. Wizard and I went to our favorite restaurant to celebrate our anniversary.   We rarely ever have dessert when we go out, mostly because we're always too full. But this restaurant has a specialty–a chocolate lava cake.
I dream about this cake! For days I lusted after it. I told Wizard I was ordering it.
He shrugged. He was much more interested in the steak and lobster.
Amateur.  He's known me this long, and he doesn't listen to me when I recommend dessert? He'll learn.
So we go to the restaurant.  We order drinks–I tried a gimlet.  I'm so adventurous! Then we ordered dinner and I pre ordered the chocolate lava cake.
Wizard smirked at me. He was indulging me, sure that he wouldn't be interested in dessert. That smirk said it all.
Oh Wizard…
So we ate, dinner was wonderful. I'm bouncing in my chair, waiting for dessert. Now Wizard is laughing at me, totally amused.
Then desert arrives.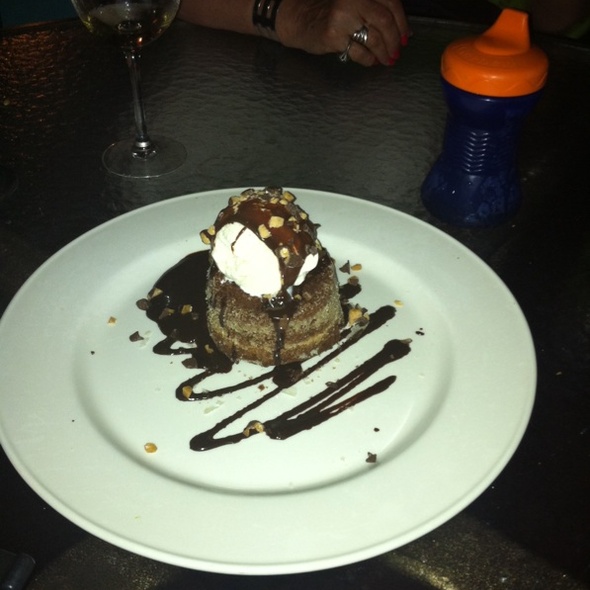 Chocolate lava cake with vanilla ice cream, fudge sauce and heath bar topping. The waiter set it between us, handed us spoons and left.
Wizard is impressed, so he decided to try a bite.
Then the battle was on! We were fighting over this cake! Both trying to get as much as we could. Both of us gorging and laughing at the same time. Then, because he loves me, he gave me the last bite.
When we were finished, he looked at me and said, "Next time, we order two."
I laughed.
And on Sunday, I wowed him again by making lemon curd. Then I made tiny cups out of pie crust and filled them with the lemon curd (such a gross name)  and dusted them with powdered sugar.
So my weekend was dessert laden and now? I'm going to the gym and getting back on my Weight Watchers Maintenance! Hopefully…
How was your weekend?