Thursday, November 10th, 2011
Bailey In Waiting
This is Bailey patiently waiting for my son to finish his (college) homework so they can play.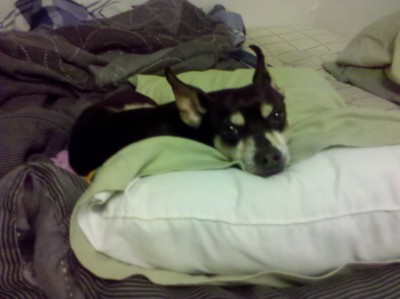 Clearly there's  a problem with Bailey's plan though. Because my son stopped working to take a picture of Bailey and email it to me.
I can't imagine where my son gets that tendency toward procrastination.  It's a total mystery. And that rumor about me procrastinating on revising the dragon chapters is not true! It's just that the witches I'm playing with right now are all shiny and sparkly–that's not procrastination, it's just trying to capture the story before it loses it's luster.  Totally logical.
And if my agent is reading this–umm–I'm mentally plotting revisions not procrastinating!
Dang, I don't even think Bailey believes me. Just look at that face. Sigh.