Thursday, December 1st, 2011
Bailey Solution–Hibernation.
Bailey is in his "bear" phase and trying out hibernation.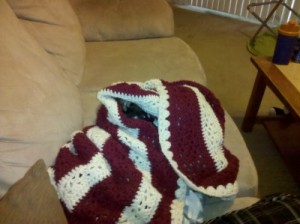 He's really in there, I swear!
Like Bailey, I'm doing a little hibernation too. I'm staying quiet and working on this new proposal. And I'm finding that I'm stalling on sending it to my agent. That has never happened to me. Weird. But I'll probably do it soon.
Then I must get back to the dragons. I feel bad abandoning them.
And Linc surface to tell me, "Hey, witch, you're spending all this time thinking about Christmas shopping, cards and decorating, but what about us? Don't Wing Slayer Hunters deserve Christmas presents?"
I rolled my eyes.  "You're disgustingly  rich, Linc," I reminded him. "What could I possibly get you?"
"Write. My. Story! And dude, you REALLY left Ram hanging. You might want to help him out too, he's in a bad way."
Sigh. I tried to explain that I want to but the publisher dropped the series. Linc is totally unsympathetic.
So I'm thinking Bailey has the right idea. Hibernation! What do you think? Is Bailey onto something?