Monday, February 13th, 2012
Monday Giveaway!
I went to my local RWA meeting this weekend and had a great time! Even better, I hung out with Laura Wright and got her to sign a copy of her latest release ETERNAL CAPTIVE to give away here!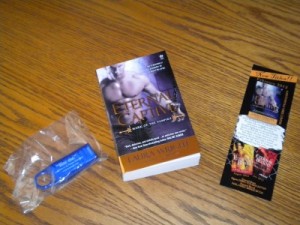 There's the signed book, a bookmark and a keyring container with mints that says "Bite Me." So just leave a comment on this blog through Tuesday and I'll randomly pick a winner from the comments and announce it on Thursday.
Getting out so see everyone was fun. Then my middle son and Bailey dog came over. Broken Leg Boy, Middle Son and Wizard and all watched the Supercross. Bailey and I curled up in bed and watched a movie–it was awesome! Peace and quiet, and Bailey never tries to change the channel.
Shhh, don't tell Wizard, but Bailey might have been sleeping on his pillow

I didn't get much time to write, but since BLB is doing better, I should be able to work this week.
How was your weekend?