Friday, February 17th, 2012
Happy Friday!
I found this on the Behler Blog, totally cracked me up!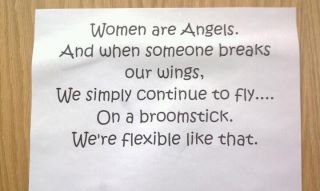 Yesterday was Broken Leg Boy's birthday and filled with heavy food…ugh! And then there was the Death by Candy Cake. Normally I bake the cake myself, then let BLB frost and candy coat it. This time, however, BLB insisted on "helping" bake the cake.
His help consisted of him balancing on his crutches and dumping obscene amounts of chocolate chunks and two kinds of M&Ms in the batter. I told him it was too much candy and the cake won't come out this way.
He insisted it would.
Now we have this leaning tower cake, covered in candy…sigh.  I'm not even going to take a picture, it's too embarrassing. I'm typing this blog before we've eaten any cake, so I can't say if it's safe to eat or not.
So while we were out to dinner, we were describing for Wizard how the cake was crumbling and we were "pasting" it back together with frosting. Then being the witty witch that I am, I mentioned that it took a metal plate and seven pins to save the cake.
Wizard laughed.
BLB (who has the metal plant and seven pins in his leg) did not.  Well he tried not to laugh, but I saw him grin.
Okay and I'll admit it–however good or bad the cake turns out to be, BLB and I had fun making it!
Have a great weekend!