Thursday, April 5th, 2012
Sorry! And Where I Am Today
Sorry! I didn't get a chance to write and set up a post yesterday. It's all Wizard's fault because it was his birthday

Today I'm over at Vampires Werewolves & Fairies, Oh My! We're giving away a signed copy of NIGHT MAGIC and SINFUL MAGIC and an e-copy of FORBIDDEN MAGIC to different winners. Come on over and say hello!
Here's Bailey–he's packing up his carrot to come over and visit today. Broken Leg Boy is going to drive out and pick him up after physical therapy today. Bailey's excited, can you tell? (The first time I posted this, I forgot the picture–just added it, and this is what happens when I try to post a blog before I have coffee!)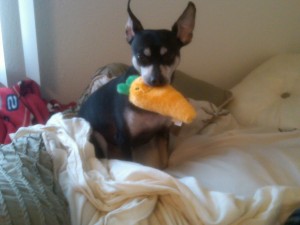 Hope you all have a great day and so sorry for being late!