Monday, June 25th, 2012
Weekend Roundup
I can't believe it's Monday! The weekend was good. BLB is doing really well, getting around with a cane mostly right now. He'll  probably walking on his own again soon. He's pushing it a bit, but he's smart and knows his limits.
Bailey's been here all weekend, and still here today. Not sure when we'll take him home. He's just hanging and happy. In fact, this is what he looked like last night after a busy day of lizard hunting in the back yard: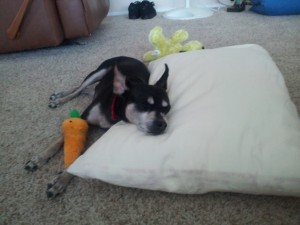 As for my, by Saturday I needed to work, and Wizard and BLB were absolutely great about it, so I got a lot done. I'm heading to the ending scenes in my draft. I'll have it done in a few days. That will give me time to revise and clean up before my July 15th deadline.
I'm also addicted to the New Species Series by Laurann Dohner.  I'm on VALIANT which is book three.
So how was your weekend?