Monday, August 6th, 2012
Weekend Roundup
Such a good weekend! Wizard threw a great party with family for me.  For six months I told him not to make a big deal about this birthday.
He didn't listen.
I"m so touched. He threw the party, Biker Witch had an awesome chocolate layer cake made–the top layer had caramel filling the the bottom layer had raspberry filling. So delicious! I can't show the whole cake because it has my age. I don't care if you guys know my age, but it's not good to have too much specific info on the Internet for anyone to find. So here's a pic of the top half: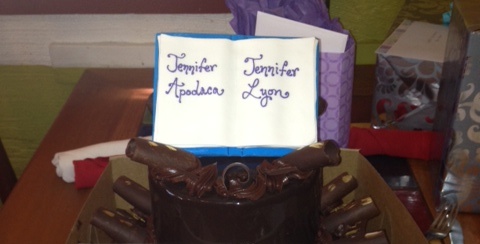 Biker Witch said she wanted both of me to celebrate my birthday

I love that cake so much! And Biker Witch gave me a very special piece of jewelry that I will always cherish.
Then my sons and their girlfriends, and Bailey also gave me a special gift that I love beyond words.
I won't talk about this anymore, I promise

It's just that I'm writing this blog right after we got home.
In other news, I'm making time to write! Wizard is really helping, giving me the space I need. CAGE MAGIC is different in a very fundamental way, and as a friend point out, it's scaring the hell out of me. But I have to write the story that's true to the characters.
Now lets not talk about me anymore! I want to hear about your weekend!
P.S. I soooo have to go to the gym this morning after that cake!!!