Monday, March 11th, 2013
The Baby Bargain Released!
First THE BABY BARGAIN written Jennifer Apodaca is here! All pretty and released! More on that in a minute
I had a great time at the meeting on Saturday. Doing Ask An Author is always fun, I always love chatting about writing and reading

Kate (Carlisle) and I went to lunch and tried to get all caught up. Why is it we just don't see our friends enough?
And speaking of friends, a huge shout to Susan Mallery  for giving me the cover quote for THE BABY BARGAIN! We were all hanging out at RWA Conference this summer and she offered to do it. I was stunned and very grateful. Susan is like that though, very generous to everyone around her. She truly tires to help other writers succeed. Here is the cover with Susan's quote: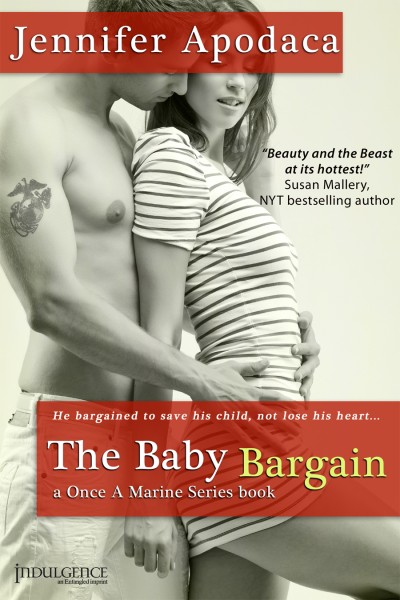 These should be the buy links Amazon Kindles /  B&N NOOK 
And the blurb:
Seeing Adam Waters is the last thing veterinarian Megan Young expects. Ex-Marine. Ex-boyfriend. And still extremely dangerous territory. But Adam doesn't know the secret Megan has been keeping from him. The secret that was created three years ago, after their last night together…

Adam returns to Raven's Cove to sell his home in a final break with the town and memories that haunt him. The problem is that his attraction to Megan is as blazing hot as it ever was. But when a vicious smear campaign against Megan turns ugly, Adam learns the truth he never knew—he has a son. Now the only way Megan can protect her child is to strike a bargain with Adam.

And it's a bargain that looks a lot like blackmail…
So how was your weekend?