Monday, April 22nd, 2013
Weekend Roundup
Aside from sinuses, it was a nice weekend. Wizard and I went out in the hot tub yesterday and enjoyed the warmer weather.
Saturday I found a picture of a 3 year old German shepherd at our animal shelter  Then I linked to the video and fell in love. So I went out in the garage (Wizard's workshop) and said, "You have to see this." He immediately put down his tools and stared walking in the house. Feeling guilty, I warned, "It's a trick. just so you know."
Now he was even more intrigued and watched the video. He loved the dog but starting muttering about tricky witches and sweating, then he escaped to the garage.
So I texted him: "Good thing the shelter closes at 4 today."
He texted back, "Shut up."
I texted, "You shut up. I can hear you wanting the dog from inside the house."  Then I sent another text, "We can't have a dog, just so you know."
Being a master wordsmith (NOT) he texted back, "Again shut up."
Then he came in to make popcorn,  so I pointed out,  "I don't have time for a dog anyway."
Standing at the microwave he said, "Sure you do…damn it!"
I laughed.  "I could get you to the shelter without breaking a sweat."
Wizard shot me a desperate look. "If we go to that shelter, you know we'll get the dog"
"I know."  So I let him off the hook but we both talked about that dog all the weekend. It's really, really not the time. Really. Seriously. Not the time for a dog.
So changing the subject, here's the second bathroom after getting new counters, sinks and lights: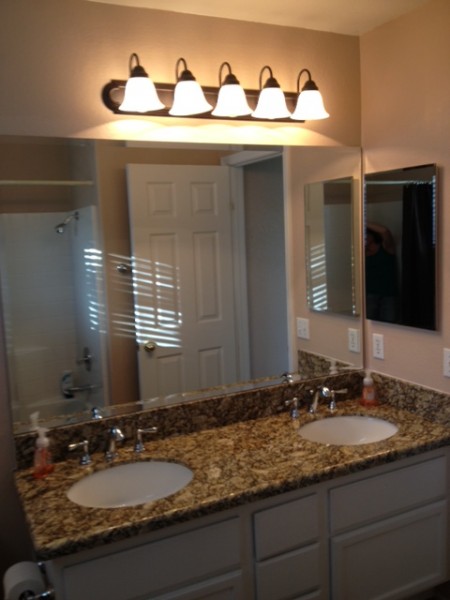 It's hard to see from the pics, but the mirrors have beveling around the edges that make them look finished. Overall, we're happy.  (I'm standing way back in the corner of the tub trying to get this shot while keeping me out of the mirrors–I looked ridiculous! )
So how was your weekend?