Monday, May 27th, 2013
Happy Memorial Day
Today we should all (in the states) take a moment to remember those who have  served to keep us safe. And also think about those who have paid the ultimate price, injury and death, to keep us free.
Now for my promise to get a picture of Bailey. I tried!  I have pictures, but they aren't good ones. All my outside shots, he turned away or looks odd.  However, I'll keep trying. I was only supposed to have Bailey for about four days, but now that's turned into a week. Middle Son will be lucky to get him back! Anyway, here is Bailey waiting for me to finish writing this blog. He closed his eyes when I tried to get a pic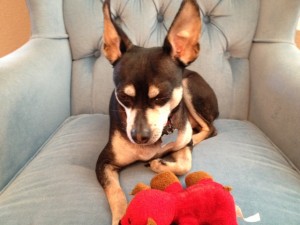 Speaking of Bailey, last night I was in the kitchen making tacos, and I hear Wizard, ROARING. Not yelling, but roaring, like RAWR. He and Bailey were playing tug of war.  I cracked up. When Bailey first came into our lives, Wizard didn't want to touch Bailey's toys, now they are buddies.
In other news, POSSESSION has release on Kindle, Nook and Smashwords. It's up for pre-order on Kobo and will deliver tomorrow the 28th.  iTunes/iBooks should go live any day now. I'm very excited about the early reviews, especially after the weeks of utter agony as I finished the book.  So THANK YOU to the readers! I love, love LOVE Kat and Sloane  but these aren't easy stories to write.  But I love doing it, and the reader response makes every anxious gut-churning moment worth it!  I do want to remind everyone that this is a serialized trilogy, and readers should start with The Proposition 
Lastly, I'm starting the Possession Blog Tour today.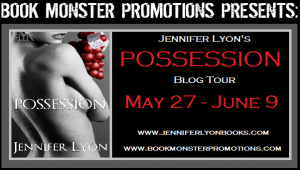 I'll be at (I'm pretty sure–it's a holiday so things could go wrong):
5/27 – Book Monster Reviews (Guest Post, series spotlight)
5/ 27- Wicked Readings by Tawania (series spotlight)
So how was your weekend?