Monday, June 3rd, 2013
Weekend Roundup
I took the weekend off from actively writing which, but I must get back to it today after the gym. But I enjoyed some time off! I did some shopping, including buying 2 bathing suits and a pair of board shorts.  Now let's talk about the concept of board shorts. They are supposed to cover the flaws. Okay, not for the kids, but you know, for ME. The problem with that?
They are FREAKING TINY!
So I tried them on and told Wizard, "I better look for longer ones."
"No those are perfect.  Keep them. "
"But–"
"I don't lie to  you, do I?"
"No, and I appreciate it." I  kept the board shorts. What I didn't say was that while Wizard doesn't lie, he's very forgiving of my flaws.  And I'm grateful for that, so I shut up and decided to be happy.
I spent some time out back which was nice!  And I worked on doing invitations for the graduation pool party for Middle Son and his cousin who have both earning their B.As.. Due to everyone's crazy schedules the party won't be until the end of June but I'm so looking forward to it. We're very proud of both kids! Plus my sister-in-law is so easy to work with, so this party is a cakewalk.  I'm debating if I should send Bailey Dog his own invitation

Not for the promotional part of this blog

Here is the POSSESSION Blog Tour for Monday and Tuesday. Stop by and enter the contest for the $50.00 gift card!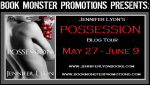 6/03- Cocktails and Books (series spotlight & review bk 2)
6/03 – Books-n-Kisses (interview)
6/04- Flirting with Romance (Interview)
6/04- Books, Books and More Books (series spotlight & reviews)
Okay now tell me how your weekend went!