Wednesday, August 21st, 2013
Wednesday Worthy
Soooo close! I got through the black moment of Obsession yesterday. I just need a couple more scenes and then I have a full draft. This book is due at the editor's scary soon, as in mere days.  But I'll flesh out, clean up and revise fast.
This is has been one of the hardest books I've ever written.  Possession was hard because the sexuality was so raw, intense and powerful, but this one has been emotionally hard. I wanted to protect my characters too much and I loved one character right from the start that was on a path I just couldn't change and stay true to the story.  So I found myself avoiding writing certain scenes with dismaying regularity.  I have no idea if I'm even close to writing anything good though.
But you know what? Not trying is certain failure and we all deserve to be proud of ourselves for trying, right?
So, for our Wednesday Worthy candidate today I'm tossing out all the regular men and bringing in the guy I'm wildly in love with: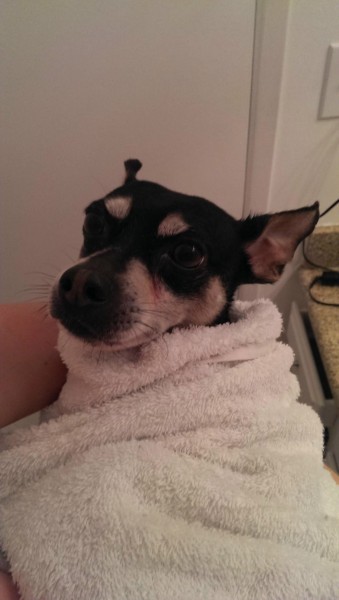 Bailey Dog! Middle Son sent me this picture of Bailey after his bath this week.  Normally Bailey doesn't love being wrapped up like that, but he let Middle Son's girlfriend do it because he adores her.
I miss Bailey, I don't get to see him as often as I used to, but Middle Son sends me pics like this that make my day. Then when I show Wizard the picture, he  nags me to go get Bailey for a week. I think we're going to have to have a weekend with him soon!
So who is your pick for Wednesday Worthy? It can be anyone–or doge–you want, we're breaking all the rules today!